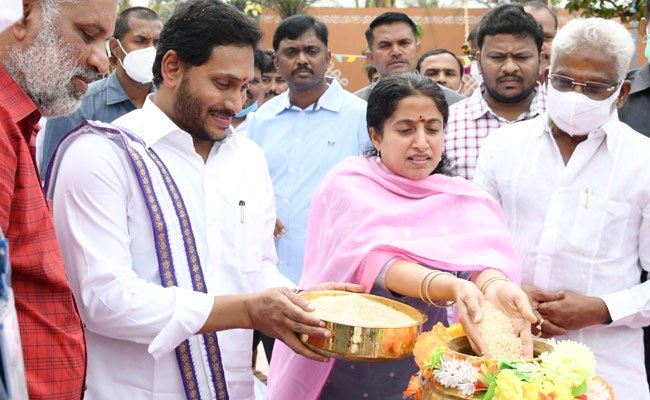 Y S Bharati Reddy, wife of YSR Congress party president and Andhra Pradesh chief minister Y S Jagan Mohan Reddy, generally keeps herself away from official programmes of her husband, especially those related to Hindu religious rituals.
Though Jagan and his family members are devout Christians, being a public figure, he generally doesn't display his staunch Christian faith and adopts a secular approach. After becoming the chief minister, he hardly gave a projection of a Christian.
But Bharati, who is seen at Christmas and Easter celebrations along with her husband never took part in the Hindu rituals. She never accompanied Jagan to Tirumala temple during Brahmotsavams and other occasions or for that matter to any other temple.
While Jagan took part in several Yagams conducted by Sarada peetham seer and other Hindu mutts, Bharat was nowhere to be seen.
Recently, Jagan inaugurated a "Go Shala" (cow shed) near his Tadepalli residence set up by Chandragiri MLA Chevireddy Bhaskar Reddy, but she was not present.
After becoming the chief minister, Jagan took part in Sankranti celebration three times, once in Gudivada and Guntur. But he was not accompanied by Bharati Reddy. He prayed cows and received Vedic blessings from priests.
But this time, surprisingly, Bharati Reddy took part in Sankranti festivities held at Gosala at his Tadepalli residence. Attired in traditional dhoti and kanduva, the chief minister graced the event and extended greetings to all the people present on the occasion.
Though Bharati Reddy did not sport any Hindu traditional attire, she was wearing a simple dress. The priests welcomed the couple with Poornakumbham and festivities were held in a traditional way depicting Telugu culture.
The couple took the blessings of the priests, as they worshipped vows. Later, they interacted with the children who performed in various cultural programmes.
Ministers Vellampalli Srinivas, Government Chief Whip Chevireddy Bhaskar Reddy, TTD Chairman YV Subba Reddy, and several public representatives were present on the occasion.
According to party sources, Bharati will be taking part in more and more such programmes in the coming days, so that it would not give any scope for the political detractors like the BJP to make allegations on their Christian faith.