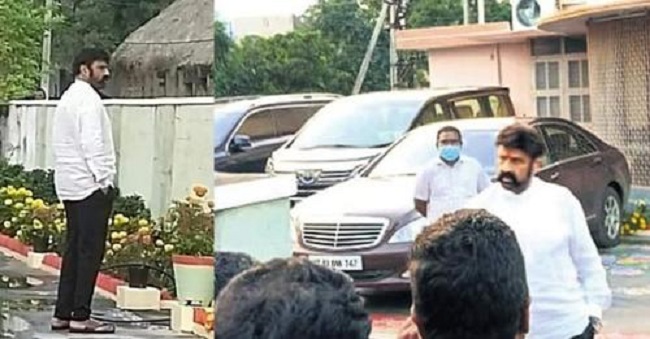 For a change, senior actor and Telugu Desam Party MLA from Hindupur assembly constituency Nandamuri Balakrishna celebrated this year's Sankranti festival along with the family of his sister Daggubati Purandeshwari at her in-laws' village Karamchedu in Prakasam district on Friday.
Though Purandeshwari and Balakrishna, being children or legendary actor N T Rama Rao, are very affectionate siblings, there had not been in regular contact all these years, except in family functions like weddings. There were not many instances of Purandeshwari going to Balakrishna's house or vice versa.
Both have been following different political lines – Purandeshwari was in Congress and then moved to the BJP, while Balakrishna has been continuing in the TDP. He is closely related to TDP president N Chandrababu Naidu – his daughter Brahmani is married to Naidu's son Lokesh.
After the recent episode of the YSR Congress leaders allegedly abusing Naidu and his wife Bhuvaneshwari in the state assembly resulting in Naidu breaking down before the media, the Nandamuri family got united again.
At a recent wedding, Daggubati family – Purandeshwari and her husband Venkateshwar Rao had a reunion with the Nandamuri family and also with Naidu and it appeared they became closer once again.
Against this backdrop, the visit of Balakrishna to Karamchedu to celebrate Sankranti festival assumes significance.
It is learnt Balakrishna's wife Vasundhara recently came to Karamchedu to spend holiday and Daggubati family invited her along with family to celebrate Sankranti.
So, Balayya, along with wife and son Mokshagna, came down to Karamchedu on Friday and celebrated the festival together. Along with Balakrishna and his family, his elder brother Jayakrishna also joined the celebrations with Daggubati family.
A large number of fans of Nandamuri family the villagers assembled at Daggubati's residence to greet the family members. However, due to Covid-19 restrictions, the family members requested them to give them privacy.
Later, both the Daggubati and Nandamuri families had gone to the nearby temple and held prayers.