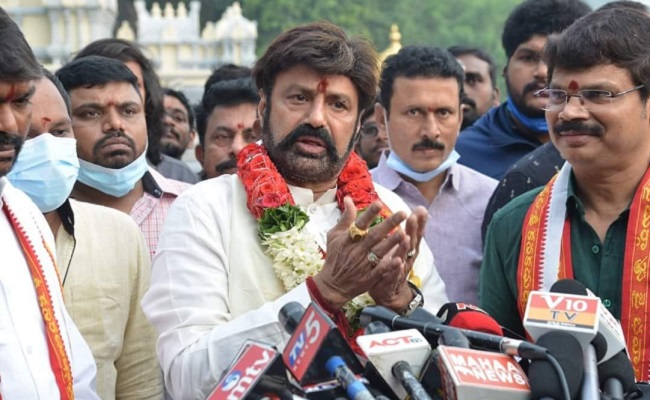 No body knows what Balakrishna speaks. After the success of Akhanda he seems to be talking something supernatural. He started his temple visits as a part of success tour and that is fine.
But at an instance he said that with the way he delivered dialogues in the film and the kind of mantras he recited, the Corona has come down phenomenally.
"Corona has come. Many people suffered. At such time Akhanda showered divinity on then and saved them from Corona. Every sound in the theatre has turned like a beejaakshar. There is huge power in sound which works on us. The mantras I chanted are panacea for diseases. People have taken the sounds of Akhanda as Mantras", Balakrishna said.
Mentioning about the ticket prices in AP, he said that Akhanda saved people and now he will save the industry.
"High Court has given verdict on ticket rates. Government is planning to go for an appeal in Supreme Court. The other industry people are confronting this. We will take a decision and will save the industry. This state is protected by this film. It is time now for us to protect the industry", Balakrishna said.
Talking about multistarrer he said that if any hero has guts to act with him, he is ready.