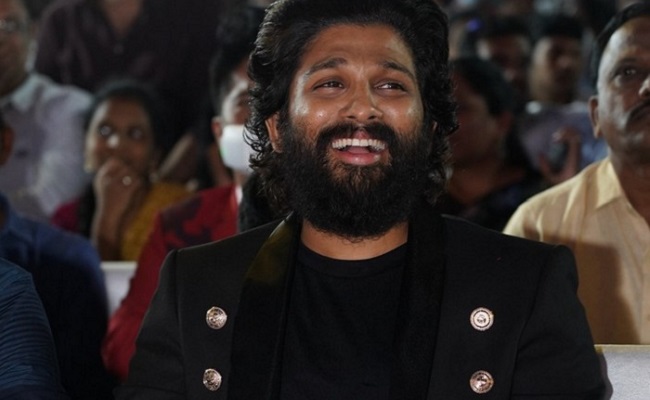 Amid a massive crowd gathering, the pre-release event of Icon Staar Allu Arjun's Pushpa: The Rise was a gala affair. Allu Arjun was at his candid best while speaking at the event.
"I didn't believe when I was told Sukumar won't attend the event. When I spoke with him, he said he wants to work on the final output till the very last hour to deliver exquisite product to the viewers. Hats off to his commitment," Allu Arjun said.
"I absolutely enjoyed filming with Rashmika and she excelled in the role of Srivalli. She has great potential."
Allu Arjun thanked Samantha for giving her absolute best for the special dance number in the film. He said Samantha, being a star didn't impose any restrictions on sets and did everything she could for the film.
Our producers Naveen and Ravi gave everything that we have asked for. They were absolute charm to work with. I am sure that Pushpa will be the biggest project in their production house, Allu Arjun said.
"Devi Sri Prasad gave a winning audio album for Pushpa. My association with him runs for 3 decades. He missed the event today as he is working on the background score."
Pushpa is equivalent of four films, such is the kind of efforts put in for the project. The cast and crew of Pushpa: The Rise worked extremely hard. I am sure that Pushpa: The Rise will enthrall you all from 17th December.
Allu Arjun congratulated Akhand unit over the film;s success at the box office. He wishes the best for forthcoming films like Shyam Singha Roy, RRR, Bheemla Nayak, Radhe Shyam, Acharya, and others.
Pushpa: The Rise is hitting the big screens across the globe on the 17th of December.