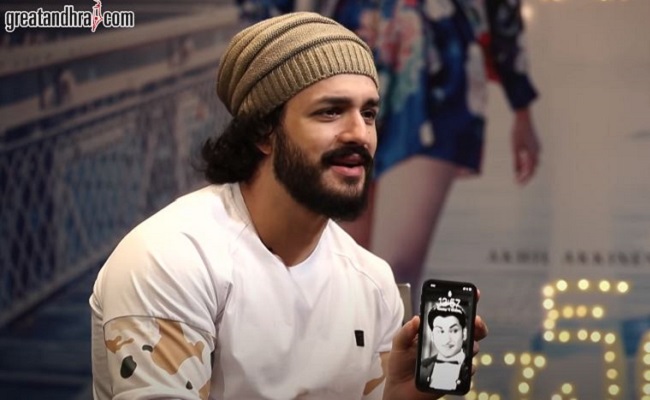 Akhil Akkineni loves his father Nagarjuna a lot. He also loves his grandfather ANR. Interesting point is that he keeps the favorite photograph of his grandfather on his mobile screen. He revealed that to the media.
"This is the picture I see whenever I switch on my mobile. This is the pic I have been seeing from the last 10 years. This is my favorite picture of my grandpa. Though I change mobiles, this pic stays constant. This is not any still from any movie. It was taken by a still photographer during the audition of some film. I loved it instantly. I kept this for myself", said Akhil Akkineni.
He said that he didn't share this news anywhere.
Also sharing about the Manmadhudu title of his father, Akhil said, "That title stays with him forever".
Saying about his upcoming film 'Most Eligible Bachelor' he shared that he didn't do comedy forcibly but the comedy runs through him.
"Pooja Hegde performed the role of a stand up comedian. She does all the comedy. This would stand up as the best characters in her career", he said.
Akhil announced that his next film will be on the banner of Geetha Arts. Adding to that he said that he would pick up an interesting story and approach Allu Aravind to make the film.