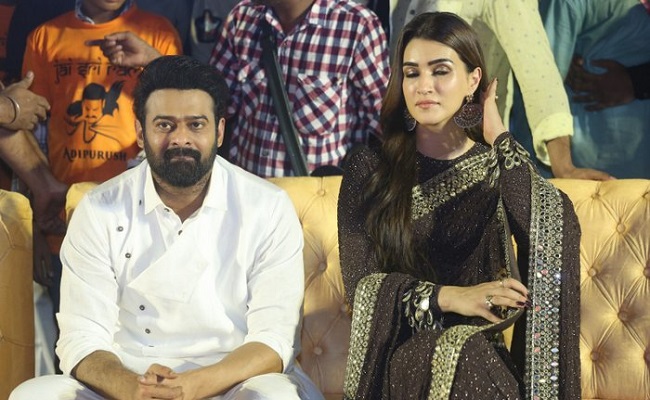 The highly anticipated film 'Adipurush' is gearing up for its much-awaited release, and the excitement is reaching new heights. Recently, a lavish event was held to unveil the film's final trailer, attended by the talented cast and crew.
During the event, Kriti Sanon, along with Prabhas and director Om Raut, took center stage to launch the captivating new trailer.
However, reports suggest that the extravagant expenditure on this grand trailer launch is equivalent to the fees paid to Kriti for her role in the film.
The event took place in Tirupati, with the entire team and a massive gathering of Prabhas' ardent fans.
The occasion witnessed a breathtaking display of fireworks, costing around 50 lakhs alone.
Furthermore, a staggering amount of 2.5 crore was spent on the spectacular launch at the prestigious Shri Venkateswara University stadium in Tirupati.
Notably, Kriti's remuneration for the film stands at approximately 3 crores.
Prabhas, clad in an all-white attire, was bestowed with a red shawl from the revered temple. The actor shared a special sentiment, revealing that when the time comes, he intends to tie the knot at the Tirupati temple.
During the trailer launch, Kriti dispelled a common misconception about Prabhas. She stated, "I was told that Prabhas doesn't talk too much. But that isn't true at all. He talks a lot. And he genuinely is a darling, he is a sweetheart, he is someone who is very warm, very sweet, very hardworking, and a big foodie. We all know that. But what always struck me is the calmness in his eyes, a calmness and purity. I couldn't imagine anyone else playing Raghav."
'Adipurush' is set to release on June 16 in multiple languages, including Hindi, Tamil, Telugu, Malayalam, and Kannada, promising an enthralling cinematic experience for audiences nationwide.