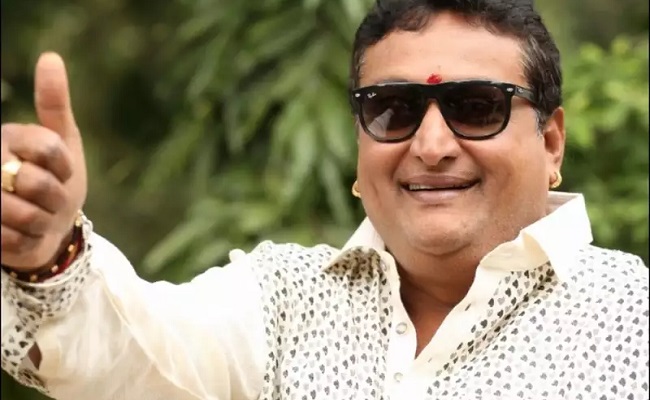 Maverick Tollywood comedian-villain Prudhvi Raj, who has virtually dropped out of politics nearly two years ago after playing a key role in YSR Congress party, is all set to stage a comeback into politics.
Known for his "30-years-industry" dialogue, Prudhvi once displayed more-loyal-than-king attitude towards YSR Congress party president and chief minister Y S Jagan Mohan Reddy, quit the party and went into political oblivion following his "hugging from backside" audio leak episode that went viral in the social media.
It is learnt Prudhvi has returned to the fold of mega family, particularly Pawan Kalyan and Naga Babu, whom he had abused using choicest epithets in the past. He is now planning to join the Jana Sena Party to return to politics.
Prudhvi met Naga Babu on Friday and declared that he would be working for Jana Sena Party in the next elections. He would soon join the party at a meeting to be held in West Godavari district.
According to sources, Pawan Kalyan, who is also desperately looking for some popular faces to contest, has reported assured to field Prudhvi from Tadepalligudem, his native constituency in West Godavari district.
While Pawan Kalyan himself will contest again from Bhimavaram, Naga Babu has decided against contesting the direct election but campaign for the party.
In the last elections, Naga Babu unsuccessfully contested from Narasapuram against Raghu Ramakrishna Raju of YSR Congress party.
Since Raju has turned a rebel in YSRC, it is obvious that he won't get the chance again. So, he might contest the LS polls from Narasapuram on behalf of Jana Sena Party this time.
Prudhvi already started attacking Jagan for the last few days. He said the people of Andhra have made up their mind to drive away Jagan, as they are frustrated with his rule.
He took a dig at the Jagan government saying the people were addicted to spurious liquor and spending the entire earnings on liquor.
He tendered apology to the farmers of Amaravati for describing them as paid artistes.
"I realise my mistake and I acknowledge their fighting spirit. I request them to forgive me for using harsh language against them when I was in YSRCP," he said.