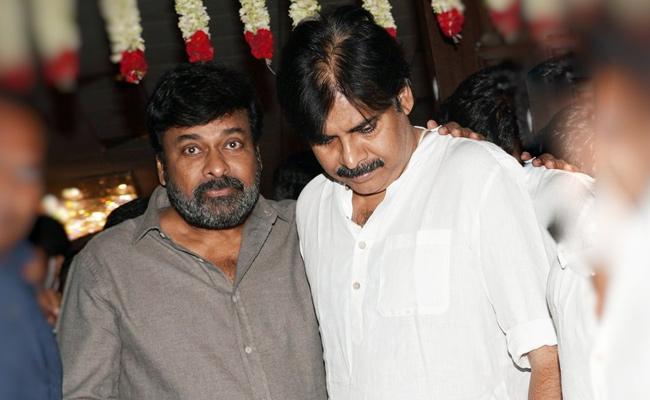 Generally, top actors will not take two or three films to the sets at a time. They prefer lining up their next movies or beginning one film after the other. But Megastar Chiranjeevi and Pawan Kalyan follow a different path.
Pawan Kalyan is shooting for "Bheemla Nayak". Currently, it has reached the filming of songs. Krish has halted the shooting of his "Hari Hara Veeramallu" as Pawan Kalyan is busy with "Bheemla Nayak".
There is another film that was announced with much fanfare. But nobody knows when it will resume shooting. We are talking about Harish Shankar- Pawan Kalyan's "Bhavadeeyudu Bhagat Singh".
His elder brother Megastar Chiranjeevi is heading in the same direction.
The shooting of "Godfather" directed by Jayam Raja began recently. Chiranjeevi is not participating in the shoot as he recently underwent hand surgery.
Meanwhile, he is readying to launch a film in the direction of Bobby in the first week of November. Besides Bobby's film, muhurtham has also been fixed for another film.
"Bholaa Shankar", a film in the combination of Chiranjeevi and director Meher Ramesh, will begin the regular shoot from November 15. So, the shooting of "Godfather" will have to be stopped for some time.
Both mega brothers are planning to retire soon after quickly doing four or five films by taking in Rs 50 to 60 crore remuneration for each film.