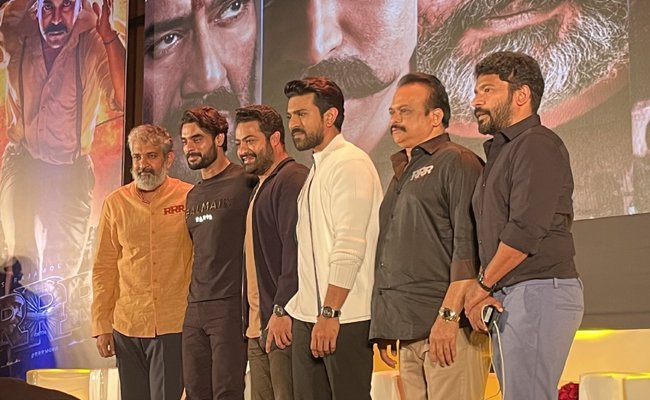 Film stars are no less to politicians these days. The producers are investing on behalf of them to shoot up their stardom to new heights.
This is a new discovery from the promotional events of RRR that happened in Mumbai, Chennai and Kerala in the last few days.
It is known that Rajamouli is the nationally acclaimed director who commands respect than craze.
Ram Charan and NTR are locally popular stars but they are hardly connected to Tamil, Hindi, Kannada and Malayalam audiences. But still there were loud whistles and echoing claps in the every promotional event.
When inquired it was revealed that almost Rs 1 Cr was spent on creating this impression that these two have lot of following among the youth in entire nation.
An inside source says that about 1500 Ram Charan fans and 1500 NTR fans were taken to Mumbai in special buses. They were given facilities to fresh up, have lunch and dinner.
These fans were taken to Chennai and Kerala as well but in limited number though not in tune with that of Mumbai. So, the artificial hype was worked everywhere.
Apart from this huge amounts were spent on the charter flights for RRR directors and heroes.
The total budget for promotions including the PR costs crossed Rs 20 Cr as per a reliable source.