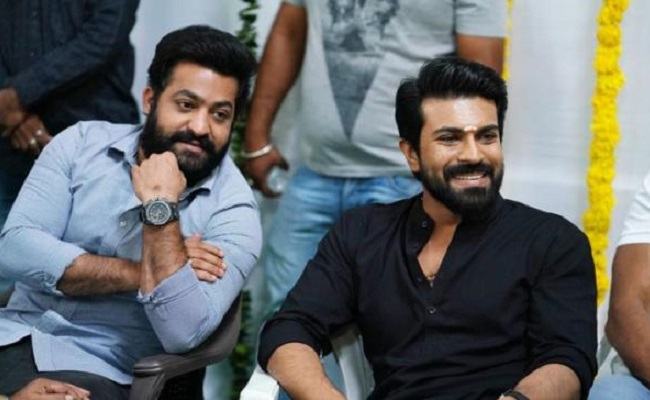 Ever since the Telugu Desam Party suffered a humiliating defeat in the Andhra Pradesh assembly elections in 2019, there have been demands for bringing Junior N T Rama Rao back into the party to revive its fortunes.
The voices for NTR's re-entry have become stronger in the recent past and wherever TDP president N Chandrababu Naidu and his son Nara Lokesh are going, the party cadre has been asking for NTR.
There were instances of party workers putting up banners and posters at the TDP meeting and in some of the villages in Naidu's Kuppam assembly constituency in Chittoor district, big cut-outs of NTR were erected by the party workers.
However, NTR has not opened up on his political re-entry and have been consciously avoiding any such questions in the media. He did not even give any indirect indications to that effect – whether he wants to enter politics or confine himself to films.
Interestingly, NTR had to face the same question once again at a recent interview. The question was not from his ordinary fan or a media person but from his co-actor in the forthcoming film RRR: Ramcharan Teja, son of megastar Chiranjeevi.
In one of the episodes of the "Evaru Meelo Koteeshwarulu" (Who among you is a crorepathi?) programme being hosted by NTR, Ramcharan appeared as a guest. The shooting for the episode was completed recently.
In this episode, NTR posed some questions to Ramcharan and the latter answered them to win a big amount as the prize money. This has already been leaked to the media.
As part of the friendly chat over a question during the programme, Ramcharan asked NTR in a lighter vein: "I was told you are also going into active politics?" Answering this, NTR made some subtle comments, giving a possible hint about his political entry.
However, the viewers have no chance to know what NTR told Ramcharan about his political entry, because his comment was deleted from the episode.
Apparently, NTR asked the shooting unit to remove this particular question and answer from the episode, after the shooting.