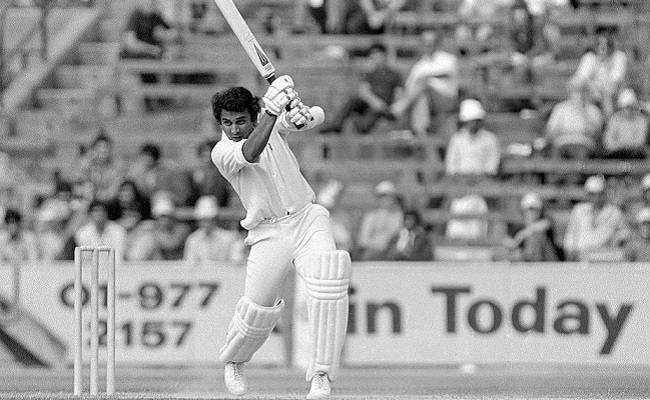 When Australia applied closure to their second innings in the ongoing World Test Championship final setting India a daunting target of 444 in the fourth innings, the mind rather eerily flashed back to 1979, to a Test match at the same august venue, The Oval, when it was also an Indian summer - warm and sunny.
India were involved then, too; but the opposition were England, not Australia.
The home side opted to bat and obtained a first innings lead of 103 runs. They then scored 334 for eight before English captain Mike Brearley declared, thereby on the fourth day setting India 438 runs to win. At close of play, the tourists were 76 for no loss, with Sunil Gavaskar and Chetan Chauhan at the crease.
In the current Test, Australia's first innings lead was 173; but they, too, closed their second venture after the fall of their eighth wicket. The target set for India was not dissimilar to 44 years ago 444 although on this occasion, with a reserve sixth day as an option, they had in excess of two days at their disposal. But hereafter the commonality parted way.
Gavaskar and Chauhan's objective was to be unseparated at stumps on the fourth day, to lay a foundation for the mammoth task ahead; and they went about their goal unhurriedly.
India had chased down 400-plus runs at Queen's Park Oval in Trinidad in 1976 when Gavaskar was in the fray with a century. As history records, three years later, India nearly pulled it off at The Oval on the fifth day.
The first wicket partnership posted a hefty 213 runs before Chauhan exited for 80. Gavaskar accelerated in a measured manner in his epic effort, before he fell for a memorable 221. India were nine runs short of accomplishing their mission, with two wickets in hand, when the match ended.
Now, from a batting perspective, the cracks on the pitch may have been psychologically concerning. With a hot sun in 30-degree centigrade temperature beating down, these were expected to widen, theoretically lending to turn and an increased uneven bounce as compared to the previous days.
However, any worry left-arm spinner Ravindra Jadeja caused was from bowling into the rough or thereabouts. The ball that dismissed Cameron Green, in fact, turned from outside leg stump, clipped the batsman's front pad and glove before rolling on to the stumps.
Indeed, when India launched into their second knock, there were few alarms for the batsmen. India raced to 41 off 7.1 overs, skipper Rohit Sharma and his opening partner Shubman Gill both looked untroubled, before the latter fell to a stunning left-handed catch, which only the extended arm of the unusually tall Green at gully could have reached.
Even thereafter, India continued to wield the willow at will, before Sharma injudiciously attempted to sweep off-spinner Nathan Lyon bowling from around the wicket only to be trapped leg before the wicket in the 20th over. It was the Australian's very first over; underestimating him was a costly mistake.
Then erupted a worse moment of madness. Vice-captain Cheteshwar Pujara, known for his patience and resilience, most uncharacteristically launched into an upper cut, Twenty20 fashion, only to be caught behind off Pat Cummins.
The lesson of 1979 - lay a foundation first - was ignored. Whether India can still pull off a miracle, the Christian Sabbath will tell.
(Senior cricket writer is a broadcaster and author of the book 'Cricket World Cup: The Indian Challenge')