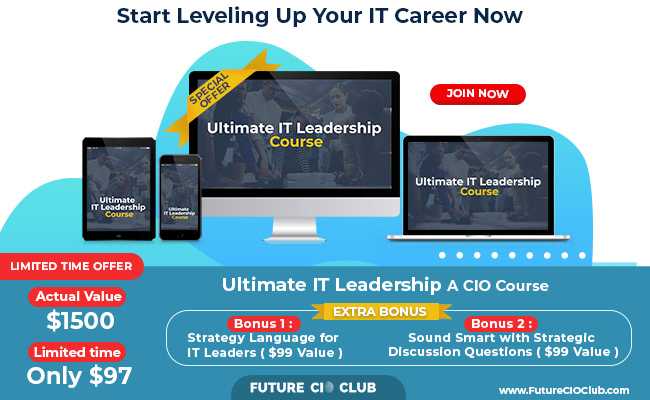 A leading CIO with 25 years of professional IT experience reveals…
How to fast track your IT career from an individual contributor to an IT Manager to IT Director to a CIO
…. Even if you currently have no experience in managing teams and without having to acquire an MBA degree or attending expensive university programs
What is the #1 factor that separates low-level IT workers at the bottom of the corporate barrel and those IT professionals who lead teams and become CIO-s in record time?
If you guessed: Their technical skills or their education and number of certificates or even the amount of experience they have working in the field…You'd be wrong.
Sure, the things above are important. But the fact is, none of these things matter if you don't master something I like to call the "IT Leadership Competency"...those who do master the "IT Leadership Competency" become IT leaders and CIO-s in record time…
Three areas that are vital to mastering the "IT Leadership Competency" - Business Skills, Technical Skills and People Leadership Skills, which are part of this CIO course bundle. While those who don't improve this competency, they get stuck in the same IT position for years – even if they have a lot of experience and really good technical skills.
Who are we? FutureCIOClub is the only elite club on the planet that is committed to making Tomorrow's Technology Leaders. We believe better leaders create a better world.
Who is the faculty? Raj P Varada is the CIO of a US manufacturing company with 25 years of experience in IT. He has double MBA education from MIT Sloan and Ross Business School. In addition, he has many industry-proven certifications - PMP, ITIL, COBIT, TOGAF, CGEIT, CISSP, CISA, CISM, SAFe SPC and more.
SPECIAL OFFER FOR LIMITED TIME
What you will get -
Signature Course: Ultimate IT Leadership
Section #1: The Role and Responsibilities of a CIO
Section #2: Understanding the "Top-To-Bottom" of a Business
Section #3: The "IT Part" Of Being A CIO
Some of the areas we'll cover are:
- IT Governance and Enterprise Architecture
- IT Strategy and Portfolio Management
- Project Management and Product Development
- IT Infrastructure and Cloud Services
- Cyber Security and Service Management
Section #4: Communication and Leadership Skills
Section #5: The Path to Becoming a CIO
Bonsu Course 1: Strategy Language For IT Leaders ($99 Value)
Bonus Course 2: Sound Smart with Strategic Discussion Questions ($99 Value)
Limited time, special offer
Total Value: $1,500
All for just one low payment of $97 - Limited time offer
And You're Protected By Our "100% Satisfaction" 30-Day Money-Back Guarantee
If for any reason you don't like the Ultimate IT Leadership course bundle, all you have to do is shoot an email to us and we will refund you the whole $97 right away.
No hassle. No questions asked.
Content Produced by Indian Clicks, LLC