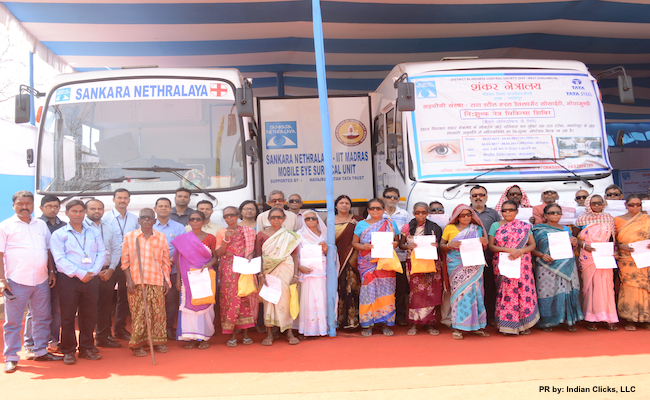 Greetings from Sankara Nethralaya!
This year, 2020, has been very challenging for charity organizations like Sankara Nethralaya, Chennai, and its fundraising arm, Sankara Nethralaya OM (SN OM) Trust, USA, with limitations on hosting regular fund-raising activities, and conducting free eye-care services for poor Indians.
With great determination, SN OM Trust Inc organized an online concert on June 20th, 2020, by the child prodigy, Master Rahul Vellal. Over 45000 viewers across the globe viewed it thanks to Mana TV, TV Asia, and TV5 providing extensive coverage. To view the concert, click here.
On June 25th, 2020, SN OM Trust Inc. participated in the well known Telugu channel, Sakshi TV's NRI debate show. Dr. Girish Rao, President, Sankara Nethralaya, Chennai; SN OM Trust's core team of Mr. Bala Reddy Indurti, President; Mr. S. V. Acharya, President Emeritus; Mr. Moorthy Rekapalli, Vice President; Mr. Sudhakar Mattu, Secretary; Ms. Leela Krishnamurthy, Past President; Dr. Reddy Urimindi, Trustee; Mr. Srini Reddy Vangimalla, Trustee; and Mr. Vishwanath Babu Manchikalapati, Trustee spoke passionately for the need to help poor blind Indians.
Dr. Girish Rao gave an overview of Sankara Nethrala, our services, etc., and Mr. Acharya gave the Trust's historical background in the USA, drawing attention to the highest 4-star rating given by Charity Navigator for financial accountability and fiscal transparency.
President Bala Indurti focused on efforts to increase our trustees from 25 to 35 by adding new chapters in untapped US cities and raise more funds for indigent patients in India.
View Sakshi TV interview NRI Live Show: https://youtu.be/AHGjujh-DU4
SN OM Trust also raises funds for unique services like the MESU (Mobile Eye Surgical Unit). A MESU is a well-equipped operation theater-on-wheels comprising of two buses - one is a preparation unit & the other is an operating theater. These MESUs perform around 200 cataract surgeries in remote villages. So far around 17,368 cataract surgeries were done in states like Tamil Nadu & Jharkhand.
Watch how MESUs bring world-class eye-care to disadvantaged Indians. https://www.youtube.com/watch?v=mKVx7E55PRQ&feature=youtu.be
Sankara Nethralaya has a three-pronged approach of providing expert ophthalmic services to poor patients free, provide excellent ophthalmic education and engage in India-centric research.
Please donate generously. By visiting the link http://www.sankaranethralayausa.org/
Mr. Bala Reddy Indurti
President
Sankara Nethralaya OM Trust Inc
Mr. S. V. Acharya
President Emeritus
Sankara Nethralaya OM Trust Inc.
Dr. Girsh Shiv Rao
President
Medical Research Foundation
Press release by: Indian Clicks, LLC