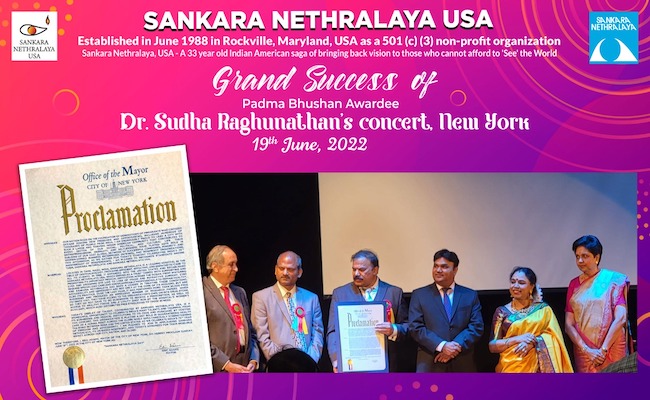 New York Mayor Proclamation to Sankara Nethralaya USA - Special Guest, Indra Nooyi - Sudha Ragunathan's concert, raised $227,500.
Sankara Nethralaya USA organized Padma Bhsuhan Dr. Suda Ragunathan's carnatic music concert in Hindu Temple Society of North America on June 19th, 2022, was a grand success. Dr. Suda Ragunathan shared her experiences with Sankara Nethralaya to a full house. Dr. Suda Ragunathan enthralled audience with popular Carnatic music songs.
Global legend Padma Bhushan awardee, Indian American Business Entrepreneur & former CEO of PepsiCo, Indra Nooyi was the Keynote speaker. When Indraji was speaking huge response was received from the audience. She spoke highly about the organization, appealed the audience to open the wallet and donate generously to the noble cause to restore the vision to indigent blind patients.
Consulate General of India New York, Honorable Randhir Jaiswal is the Special Guest.
Proclamation from the Office of the Mayor City of New York – making June 19th is Sankara Nethralaya Day was presented to President Bala Reddy Indurti. He spoke about the history of Sankara Nethralaya and founders Padma Bhushan Dr. SS Badrinath and USA chapter Founder Sri SV Acharya. When he mentioned about recent 1 crore Rs from Smt Madu Gulati, who donated in memory of her parents-in-law, he received roaring response from the audience.
Mr. Dilip Chauhan, Assistant commissioner for international affairs, is a guest of honor to the NY concert who was instrumental in procuring the proclamation for Sankara Nethralaya.
Sankara Nethralaya New York chapter Board of Trustee (BOT) Dr. Raj Modi organized the event with the help of President Bala Reddy Indurti, Vice President Mr. Moorthy Rekapalli, Secretary Mr. Srinivas Ganagoni, and Board of Tustees Shankar Setty, and Sowmia Naarayan. Dr. Raj Modi and his wife Neelam Modi worked tirelessly to conduct this program successfully.
Thanks are due to Sowmia Narayan, Kamalakiran Vinjamuri, and Akshay Anantapadmanabhan for providing excellent music to back-to-back Suda Ragunathan's concerts.
Thanks are due to the volunteers: Dr. Raj Modi's wife Neelam Modi and his daughter Aparna Modi.
Thanks are due to the volunteers: Shankar Setty's wife Sadhana, his daughter Shreekrutha and his Son in law Gigio Ninan.
Thanks are due to the volunteers: Dr Urmila Shivram, Ananda Iyar, Murli Iyar, Rahul Iyar, Pavithra Sundar, Meenu Sawhany, Anju Sharma, Sanjoo Sharma, Nilima Madan, Lalitha Sankaran, Chitra, Gina Shekhar, Shuba Rajgopal, Divya Shah, Sadhana Shankar, Sweekrutha Shankar, Gigio Ninan, Prameela Gopu, and Garikapati Seeta.
Thanks are due to media partners: Mana TV, TV Asia, Sakshi TV, TV5, US1, TeluguOne, GNN, and Singapore TV for promoting the mission of Sankara Nethralaya.
Thanks are due to Chennai team Mr. Theagarajan, Mr. Suresh Kumar, Mr. Deena Dayal for providing beautiful flyers and promoting the event for Morrisville PA and New York events.
We have raised $227,500.00 (Two hundred twenty-seven thousand and five hundred dollars) to restore the vision to 3,500 indigent blind patients in India.
MESU and Brand Ambassadors video link: https://www.youtube.com/watch?v=xgp8Lu0gnuk
Recent activities and developments in Sankara Nethralaya in other parts of the world:
- Shri S. V. Acharya, President Emeritus, SNUSA was honored with the A Shama Rao Memorial Outstanding Achievers Award 2022 on Friday May 27 at the Srinivas University Mukka campus in Mangalore, India.
- Mr. Selva Jayaraman, Mrs. Leela Krishnamurthy, Mr. Anand Dasari, and Mr. Ravi Maraka sponsored Adopt-A-Village MESU 11-day programs successfully in their respective villages.
- For the second year in a row, Newsweek magazine has named Sankara Nethralaya as one of the best 100 hospitals in the world. Our fund-raising arm in US, Sankara Nethralaya USA was given the highest rating of four stars for the third year in a row by Charity Navigator.
- Our Newark Delaware team organized Padma Bhushan Dr. Sudha Raghunathan concert in Morrisville, PA in coordination with Chinmaya mission.
While we appreciate your support for the past four decades, we seek your continued support. You may donate your tax-deductible contributions by credit card or by check.
For more details and donations, please visit www.SankaraNethralayaUSA.org
Sankara Nethralaya (SN) is a non-profit charity organization providing ophthalmic(eye) care to millions of patients throughout India for the last four decades. Nethralaya also provides ophthalmic education and India-centric research. To support the mission of Sankara Nethralaya, Sankara Nethralaya USA was established back in 1988.
The main goal of the Trust creation was to have the NRIs support and contribute to the Noble cause. Sankara Nethralaya USA is one of the trusted and well-respected charity organizations in the USA. The Trust also received Charity Navigator's "Four Stars" highest rating for maintaining financial accountability and fiscal transparency for funds donated by donors and how they are utilized towards the stated cause.
On an average, Sankara Nethralaya treats 3,000 outpatients and performs 300 surgeries/day almost half of them free on poor patients. Our two Mobile Surgical Units (operation theatres on wheels – only one of its kind in Asia) have so far screened 110,761 patients and performed 20,407 surgeries in the remote villages of India.
Program was concluded with New York Board of Trustee Dr. Raj Modi's vote of thanks.
Please visit www.SankaraNethralayaUSA.org for more details.
Content Produced by Indian Clicks, LLC