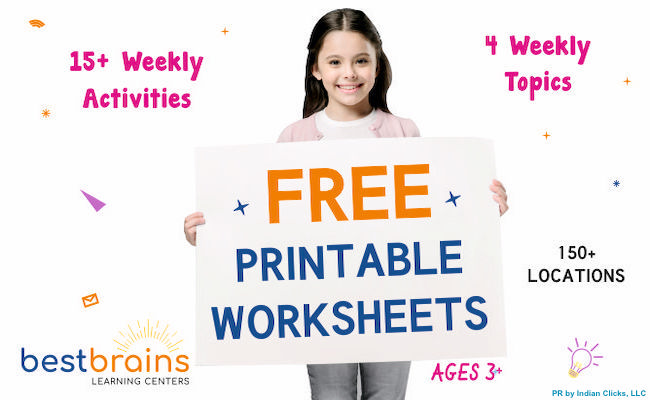 Best Brains, an after-school learning company, announces all-new online content in response to shelter-in-place and social distancing policies keeping children out of school and away from their after-school activities. Easily accessible and available to all students, not only to those currently enrolled, Best Brains online content offers solutions for parents looking for content they can trust.
Currently, Best Brains is offering free weekly workbooks for students grades PreK through 8, available on their website and have increased production on their YouTube Channel. New content and weekly shows began uploading on Thursday, March 19th to a very positive response, doubling their subscriber count in a matter of days.
Since 2011, Best Brains has been best known for offering one-on-one student interaction from certified teachers in a safe classroom environment for their students, who range in age from 3 to 14. Their non-repetitive model and highly qualified staff leads to high student engagement and excitement, as well as parent satisfaction.
With 150 locations and growing, Best Brains was becoming a well-established brand where parents could rely on weekly facetime with a qualified and caring staff. But as state mandated closures and social distancing due to the spread of COVID-19 became more and more frequent across the US and Canada, the learning centers had to mobilize fast.
Not only have they completely renovated their model to allow their one-on-one teaching method to go online, but they have added extra features to share the quality that Best Brains customers have come to trust with all families in the US and Canada.
With Live Classroom Teaching, students can now attend their weekly classes virtually, utilizing free meeting software to connect directly with their teachers. Still in its early days, parents and staff have shown great enthusiasm for the program, with students as young as 3 years old benefiting from the teacher guided lessons.
To help parents and children beyond those enrolled in Best Brains programs, Interactive Weekly Workbooks have been created and are available for download.
With version for grades PreK-8th, these workbooks are filled with over 20 activities per week to engage children and keep them motivated and engaged with learning. And then there's YouTube. Best Brains has been hard at work developing video content that goes beyond the classroom to focus on life skills, arts and crafts, interviews, music, and much more.
Viewers can follow along with free downloadable worksheets and submit questions to be answered by the various video hosts.
So far, three series have debuted: "Practical Pam," who answers common queries for the growing mind, "Shakespeare: Speaking the Speech," which teaches famous monologues from a performance point-of-view, and "Morning Meditations," which helps viewers begin their day with peace and tranquility.
Many more shows will follow in the coming weeks, providing new children's content multiple times per week with the Best Brains standard of quality.
You can find more information at www.BestBrains.com/eLearning
Press release by: Indian Clicks, LLC
CLICK HERE!! For the In Depth Updates on all the OTT Content