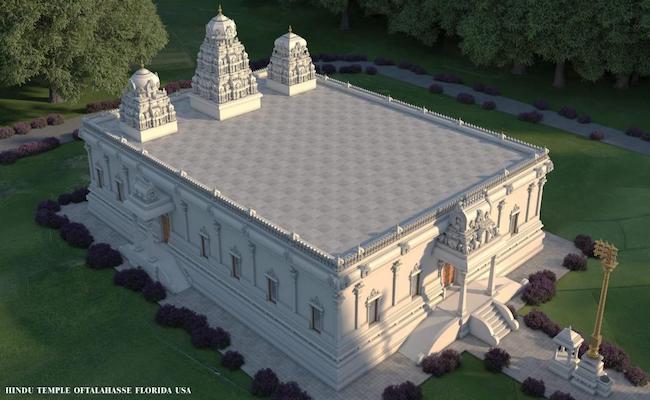 The Indian community of Tallahassee, Florida and its adjacent counties has grown rapidly over the last 10 years. The followers of Hindu religion among this community have always felt the need to have a permanent place of worship that would allow them to practice their rich and diverse religious practices and traditions. Over the years, the Hindu community has been supported by numerous Leon County community centers and school auditoriums, where religious ceremonies and festivals were held.
However, the community still longed for a permanent temple that would be able to host the numerous deities as well as a priest who would be always available to perform the daily rituals and the major religious Hindu festivals with all glory and splendor associated with these events. Along with these facilities, the temple would also serve as a place where one would be able to meditate in a peaceful atmosphere.
Thanks to the diligent and consistent efforts of the many individuals and families involved in making this vision a reality, the Hindu Temple of Tallahassee (HTT) is slated for its grand opening in August 2022.
The temple opening celebrations will be held in accordance with Hindu rituals spread over four days from August 11th through 14th, 2022. On this auspicious occasion, HTT plans to hold a series of worship and prayer sessions along with cultural programs.
In addition, Tallahassee and surrounding communities will get an opportunity to witness 'prana prathista' (ceremony by which a deity is consecrated in a Hindu temple) of all Utsav murties (deities) along with the distribution of ceremonial food offerings.
Additional details about the event including the itinerary may be found on our event website at: https://sites.google.com/hindutempleoftallahassee.org/htttempleopening2022/home.
In case you wish to donate, please send your donations in the form of a check payable to HTT, and mail to 2526 Chaires Cross Road, Tallahassee, Fl 32317 or you may pay online through paypal using the link:
The HTT Governing Body cordially invites you along with your family and friends to the temple opening celebrations.
Please email us at [email protected] for additional information.
Content Produced by: Indian Clicks, LLC