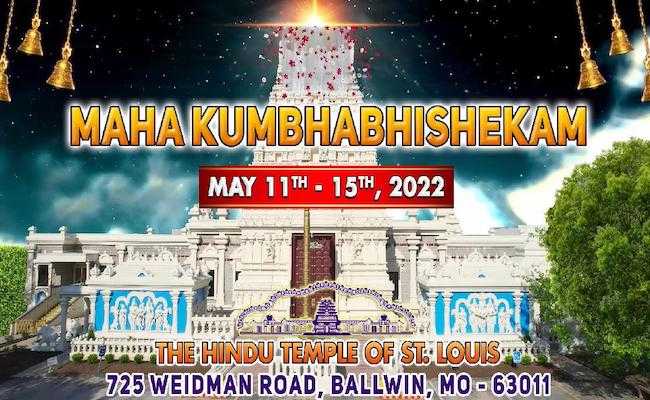 The Hindu Temple of St Louis is conducting Mahakumbhabhishekam.
From May 11-15, the Hindu Temple of St. Louis, located in St. Louis, USA, will conduct Mahakumbhabhishekam ceremony for the third time in it's history. The temple, which has a history of over 30 years, was consecrated in 1998 (the first Kumbhabhishekam) and the second Kumbhabhishekam in 2009.
Chief Priest of this ritual is Sri Ramakrishna Narayanam Garu (Columbus, Ohio) and all arrangements are being made to perform per Shastras with over 15 Ritviks.
Under the leadership of Chairman Sri Srinivasa Rajinikanth Gangavarapu and President Mrs. Rajyalakshmi Naidu, the program is being planned and executed with the support of over 400 volunteers to cater to the needs of the devotees.
The entire temple premises is fillde with traditional decorations to bring the festive atmosphere. Devotees will also be entertained by a number of cultural activities along with worship.
After the Mahakumbhabhishekam, devotees will be entertained by the vocal concerts of world renowned musicians Padma Vibhushan Sri Yesudas and Padma Bhushan Smt. Sudha Raghunathan.Padma Bhushan Smt. Sudha Raghunathan Media Chairperson Raja Surapaneni told Hindu temple of St.Louis made all the arrangements for various Puja's and also conducting lot of cultural activities.
For More Details, please visit: https://www.hindutemplestlouis.org/services/
About The Hindu Temple of St. Louis - Maha Kumbhabhishekam: https://youtu.be/GqqYkN4eUoo
Content Produced by Indian Clicks, LLC