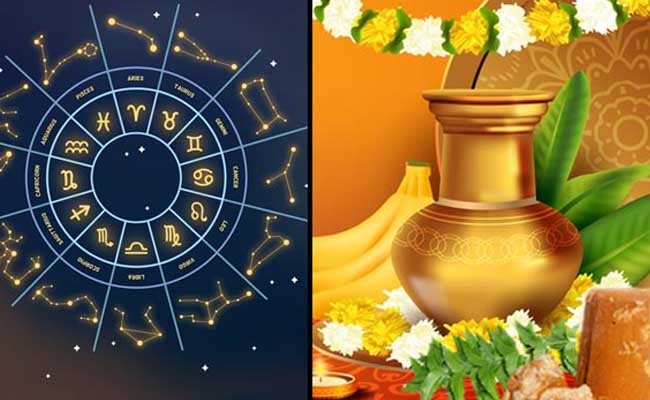 The Telugu New Year commences on Chaitra Suddha Padyami, which is also celebrated as the Ugadi festival by Telugu people.
The festival is marked by spending time with family and friends, learning about the current state of the country and listening to the almanac for the horoscope of the year.
New resolutions are made on Ugadi day.
As per the Chandramana calendar, this year is referred to as "Sri Sobhakrut", which is the 37th year of the 60-year cycle of Telugu years.
Let us have a quick look on what is in store for us this year:
- There will be resolution of some disputes in the country, promoting reconciliation among the people. The economy will become stronger, with significant increases in industrial and agricultural production, resulting in affordable prices. However, the prices of some metals, including gold and silver, will rise, while cooking oil and petroleum prices may also increase. Fortunately, there is an abundance of dairy crops, leading to a highly developed dairy industry and a steady rainfall pattern.
- In the western region, there will be some famine conditions, while the eastern region will maintain a balanced state. The country will move towards greater development in the fields of science and technology, while rulers strive for peace and harmony with neighboring countries.
- Some areas will be plagued by various diseases, but the transit of Jupiter in Aries will bring more benefits to the country and its people. Transit of Saturn in Aquarius will be advantageous in all aspects. Political disputes and public issues will decrease, and governments will focus more on development.
- Earthquakes and storms may cause some concern, but business and commercial sectors will not suffer from shortages of profit even if prices decrease. Farmers' hopes for a fruitful crop will come true, and there will be mutual disputes and changes in political circles. Some political crises may arise in the months of Kartika and Margasira, but the field of art will gain great fame, while the software and real estate sectors will prosper. Those in the medical and service fields will receive special recognition.
- Scientists will compete with other countries using the latest research, and difficulties will be overcome for people in ordinary professions. There may be more scandals in the Sravanam and Bhadrapada months, leading to the dismissal of some officials. In addition, there may be a high number of train and road accidents in the North and Northeast regions. However, overall, this year's outcomes will be favorable, and people can live comfortably.