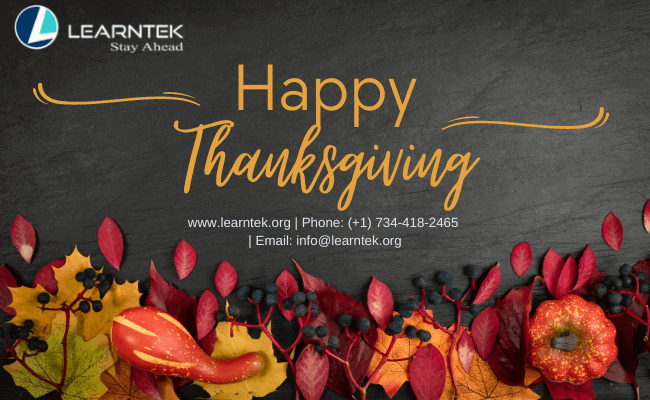 Happy Thanksgiving + Black Friday Discount Offer
Instructor Led Live Online Interactive Sessions.
Limited Seats Available
Access to Class Recordings
New Batches Every Month
Select any 4 Courses from the following list for $ 600.00.
Discount Offer. https://www.learntek.org/festiveoffer/
Option 1
One Student can attend all 4 courses in next 12 months.
Option 2
2 or 3 Family members or Friends can attend 4 courses in next 12 months.
- Amazon Web Services Training
- Google Cloud Platform Training
- Azure Training.
- Cybersecurity Professional Training
- Python Programming
- Core Java Programming.
- Data Science with Python.
- Machine Learning with Python
- DevOps Training.
- Kubernetes Training.
- Business Analyst Training.
- Software Testing Training.
- Selenium Training.
- Salesforce Training.
- Angular Training.
- React JS Training.
- UI Developer Training.
- JavaScript Training.
- Scrum Master Certification Training.
- Database Concepts and SQL Training.
- Oracle SQL PL/SQL Training
- Tableau Training
- Power BI Training
- Spoken English.
Discount Offer valid till Sunday, November 27, 2022
For more information, visit: www.learntek.org
Discount offer: https://www.learntek.org/festiveoffer/
Math, Science & Coding for High School Students.
https://www.learntek.org/ap-classes-online/
Contact Information :
Email: [email protected]
USA: +1 734 418 2465
Content Produced by Indian Clicks, LLC