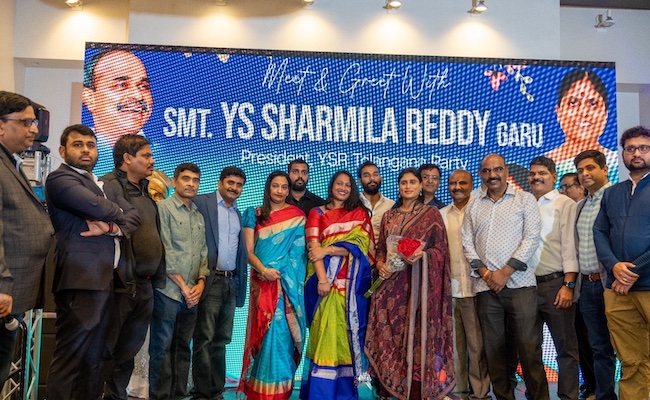 Telugu diaspora in Dallas, America, extended a warm welcome to Smt. YS Sharmila, president of the YSR Telangana party. She and her son, YS Raja Reddy, attended the event "Meet & Greet YS Sharmila" as part of her trip in the United States.
Many YSRTP supporters and mahaneta YSR admirers showed up to the event to show their support for YS Sharmila. The audience was thrilled on this occasion with cultural events and Kuchipudi dancing performances. Special AVs were played in honour of the late YSR and to highlight YSRTP's activities in Telangana.
In her remarks, YSRTP President Sharmila recalled how YSR was constantly concerned with the problems and needs of the people of Telangana. She said that out of YSR's 30 years in politics, just 5 of those years were spent as Chief Minister. She stated that millions of people's memories of those five years under YSR would last a lifetime.
She recalled that thousands of low-income students who otherwise couldn't afford higher education benefited from the fee reimbursement programme started by YSR. Many of them are currently thriving in their positions while employed by illustrious organisations around the world. She said that YSR was responsible for putting into action the Arogya Shri programme, which provided the impoverished with hundreds of free treatments. Lakhs of low-income patients have received free care under this programme to this day.
She recalled that YSR built 46 lakh pucca houses for the poor in 5 years, a record to this day. She cited that 700 people committed suicide as they couldn't bear the news of YSR's death. People's devotion to YSR is unparalleled and unfathomable, and some have even sacrificed their lives for him. She recalled that the majority of those who died after learning of YSR's death were from Telangana.
Sharmila criticises KCR, saying that Telangana has suffered under his administration. She expressed sorrow over the 8,000 farmers and hundreds of unemployed people who had died by suicide in the past 8.5 years. Farmers were defrauded of loan forgiveness, women were defrauded of zero interest loans, and students were defrauded of free education from KG to PG. Even the fee reimbursement is not being implemented and hospitals have ceased taking up Arogya Shri cases.
Sharmila concluded that YSRTP was founded to reinstate YSR Golden era and further the interests of people of Telangana. She affirmed that she would keep fighting for the people and become voice for the underprivileged.