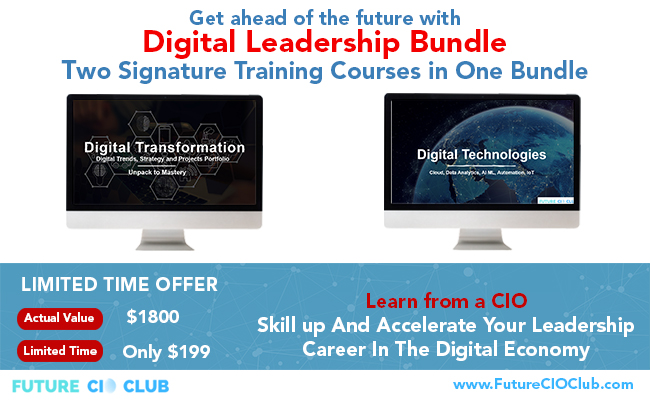 Do you know the job shift happening in the world?
According to World Economic Forum, there is a growing demand for Digital Skills.
By 2025, 97 million new jobs will be created in the areas of Digital Technologies - Data, Analytics, Artificial Intelligence, Machine Learning, Cloud, Automation, the Internet of Things, and Cyber Security.
Now the important questions for this digital world are:
- How do you want to skill up and secure your future IT career?
- How do you want to increase your income?
- How do you want to fast-track your IT leadership career?
Get ahead of the future with Digital Leadership Training Bundle
This bundle of courses brings together the two latest and most relevant leadership and technology training to thrive in the digital economy.
Signature Course 1 - Digital Transformation Training Course
($900 Value)
This Master Course with well-crafted 27 lessons and 3 hours of content to help you improve your knowledge of Digital Trends, Strategy, and Digital Transformation Projects Portfolio.
Modules covered:
1) Course Introduction
2) Digital Economy and Trends
3) Digital Technologies
4) Digital Transformation Journey
5) Digital Strategy and Portfolio
6) Digital Foundation Initiatives
7) Digital Transformation Projects
8) Digital Innovation
9) Summary and Next Steps
Signature Course 2 - Digital Technologies Training Course
($900 Value)
Gain a deeper understanding of these Digital Technologies - Data Analytics, Cloud Technologies, Artificial Intelligence, Machine Learning, Automation, RPA and IoT - with 33 lessons and more than 4 hours of content
Modules covered:
1) Course Introduction
2) Cloud Computing
3) Data and Analytics
4) Artificial Intelligence and Machine Learning
5) Automation - RPA Bots
6) Internet of Things - IoT
A leading CIO with 25 years of professional IT experience and compiled knowledge from top academic and research organizations into the Digital Leadership Course Bundle
Total Value: $1800
All for just one low payment of $199 - Limited time offer
And You're Protected By Our "100% Satisfaction" 30-Day Money-Back Guarantee
If for any reason you don't like the Digital Leadership course bundle, all you have to do is shoot an email to support@futurecioclub.com, and we will refund you the whole $199 right away.
No hassle. No questions asked.
Content Produced by Indian Clicks, LLC