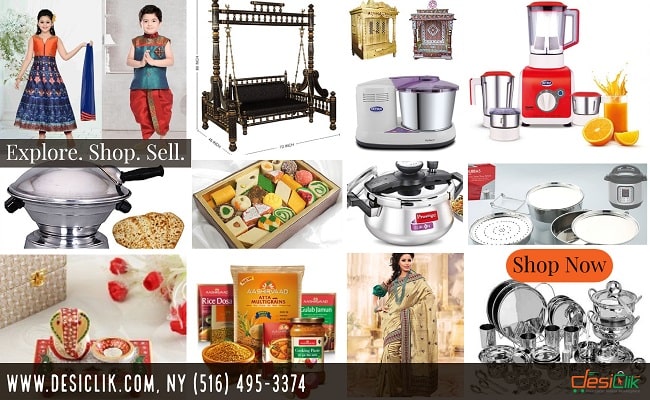 Like they say, "You can take an Indian out of India, but you can never take India out of an Indian".
With the increase in the South Asians diaspora mainly Indians in the USA which stands at over 3 million the demand for Ethnic Indian products has grown significantly in the last 10 to 15 years.
In the early days there were a few mom and pop shops in and around the country. Later there were quite a few fragmented online shops plus brick-and-mortar shops in various pockets across the USA that have a dense South Asian population, none of them serve the needs of people who do not have access to those shops. Moreover, customers have to look for basic products in multiple places to find one.
DesiClik.com came into existence back in 2014 to solve this issue. To make it easy to find Indian products available in the USA by providing a single marketplace that connects buyers and Sellers in the USA Today, DesiClik.com boasts of having over 20,000 products in 150+ categories sold by over 200+ vendors. They have also helped work-from-home moms who want to start an online business.
The platform not only offers an "all under one roof" solution for Indians living in the US, but also caters to the growing gifting market for the Indians who want to send across gifts to their loved ones in the US. Since everything at Desiclik is shipped from the US, one can ship sweets and perishable items too.
Catering to the needs of millions of Indians in the USA, DesiClik.com has emerged as the largest e-commerce portal offering exclusive Indian products at the click of a button across several verticals.
DesiClik.com provides an Indian bazaar like experience and has become the destination for any desi needs for many South Asians. This website focuses on authentic Indian items and promotes South Indian products. Indian household items are filled with lots of ensigns, spices and handicraft.
And it's not just Indians settled abroad but everyone loves Indian food because of its rich variety of spices and dishes. Clothes and bohemian home décor items are cherished by all because of the homely vibe they give. DesiClik.com not only serves customers' taste on outfits but also home and ascents and everything you can possibly ask for.
From clothing to jewelry to groceries to home and kitchen items to puja and festival items DesiClik.com has become one stop destination for shopping Indian items online in the USA. Explore huge collection of beautiful and ethnically pleasing products.
Indian aesthetics is filled with emotional themes of work which depicts emotions in the form of art. Indian aesthetics have a huge fan base abroad. Following are just some of the major categories served by DesiClik.com:
1) Indian Grocery: Missing the authentic taste of your home a lot? Find the right spices and groceries to make your moms special daal chawal or bhindi ki sabji that will make you feel right at home. Find authentic and optimum quality rice, wheat, spices, Indian snacks and sweets from 150+ brands directly imported from India.
Your one stop Indian grocery store for finding finest quality and drool worthy authentic Indian groceries at the best price.
https://www.desiclik.com/indian-grocery-store-c-4.html
2) Home Decor: Decorating homes is an art and you need the right equipment to create a beautiful art, your home. Budget friendly ethnic home décor items and ethnic carved furniture available only at desiclik. Suiting to all your bohemian taste browse through our extensive category to ogle at. Find wall arts, tapestries, tables, chowki / bajot, jhula for living room and many other beautiful art pieces online at DesiClik.com
https://www.desiclik.com/home-decor-c-66.html
3) Kitchen Cookware & Utensils: To cook that home style meal, having the right utensils and tools can go a long way in saving you time in your busy schedule. Find great deals and discounts on kitchenware, stainless steel utensils and cookware from India like masala dabba, lunch box, dinner set, thali, idli maker, katori / bowl, glass, chakla belan, pressure cooker and Indian mixer grinders and much more.
We also carry tandoori oven and large pots & pans and kadahi for Indian restaurants.
https://www.desiclik.com/indian-kitchen-c-301.html
4) Traditional Clothing: Indian weddings and festivals are incomplete without Indian ethnic wear. Indian ethnic wear is filled with grace and elegance. The ethnic aura of different ranges of fabric and drapes just makes you fall in love with the variety of Indian wear. Every Indian festival shines brighter because of the beautiful Indian prints and handloom works that make the clothes even more attractive.
Find clothing of your preference from a wide variety of choices on salwar kameez, churidars, sarees, lehenga cholis, bridal wear, kurtas, sherwani and what not.
Desiclik.com provides beautiful and genuine Indian wear online in the USA at the best price without compromising on quality.
https://www.desiclik.com/indian-clothing-c-244.html
5) Traditional Jewelry: Jewelries have always been a significant accessory for indian women since we all can remember. Indian women wearing jewelry is not just a customary tradition but it has lots of values and attachment to it.
Browse through the jewelry category and find the jewelry that best suits your taste from necklaces, bangles, maang tikkas, jhumkas and many more! Find silver coins, statues and idols in this category too which are great gifting options.
6) Puja and festivals: Across the globe Indians celebrate numerous festivals and each festival is dedicated to different gods and goddesses. These festivals have been celebrated since we can even remember. Indian festivals are a culture of fasts, feasts and royalty.
Celebrate your festival hassle free by ordering items off our site where you can shop from a variety of products dedicated to different festivals. You can also send gifts to your friends and family in traditionally packed gifts! Sending mithai on Diwali is a tradition and DesiClik.com helps you live that tradition.
7) Accessories: Women aren't just fashionable when it comes to clothes but also in the accessories they wear. Find ponchos, sweaters, handbags, shoes and everything you are looking for to jazz up your outfit! Browse through our category accessories and find the accessory that sparkles and suits your outfit the most!
Invest in some fun and fashionable accessories that can upgrade your outfit in a minute only at DesiClik.com
8) Movies and Games: Bollywood movies are very unique and filled with lots of action and drama. And what child hasn't grown up watching Shah Rukh Khan's movies and listening to mellow songs by Kishore Kumar and Lata Mangeshkar.
Browse through our movies and games category to find your favorite movies! Find authentic toys like carrom Board, Ludo and so much more for your children too!
9) Vitamins and Ayurveda: India is known for its traditional natural herbal and ayurvedic medicines. Many different medicines and medical systems are found in the ancient vedas and scriptures. These herbal extracts are used in many of the mainstream medicines and are also used to cure many diseases.
It Is hard to find Indian medicines online but at DesiClik.com you find them under one roof. Browse through the health and beauty category to find medicines that you need.
When asked about the growth plan for DesiClik.com - The CEO said - "We want to make it easy for South Asians to connect with their home country. We are taking a multi-pronged approach in expanding our catalog, reaching out to customers in remote locations to make it easy for them to get access to their needs. Finding tasteful traditional items abroad can be a little difficult. More than 60% of Indians living in the US have their parents and kin back home."
DesiClik.com is also reaching out to vendors for reverse gifting and making it easy for them to send gifts during festivals. Our customer base is expanding to outside of the Indian community with 30% of our customers being non-Indian. Our goal is to make any desi item just a Click Away for anyone looking for ethnic Indian products.
DesiClik.com makes Indian shopping just a Desi Click away!!! Visit us today and explore India in the USA.
Press release by: Indian Clicks, LLC
Click Here for Latest Direct-to-OTT Releases (List Updates Daily)