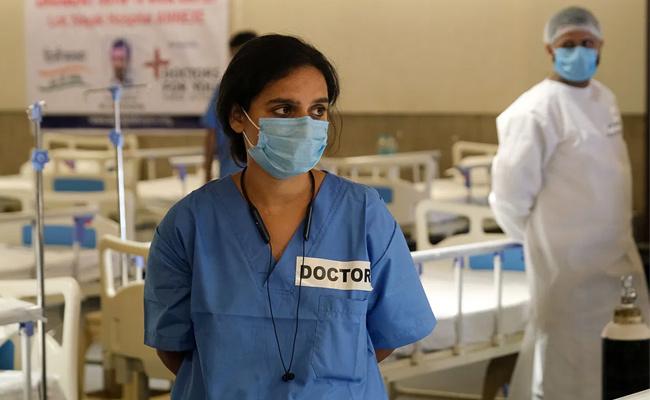 Telugu states of Telangana and Andhra Pradesh present a contrasting picture of Covid-19 situation.
While one state with continuous surge has climbed on to the second position in the country in terms of number of cases, the other has succeeded in controlling the pandemic. At least this is what the statistics suggest.
Both the states claim to be handling the situation well. Andhra Pradesh attributes the high number of cases to massive testing while dismissing the criticism for fewer tests and allegations of hiding deaths and underreporting cases, Telangana claims that its strategy helped in containing the virus.
As of September 12, Andhra Pradesh with over 5.57 lakh cases stood second on the list of states with most cases, next only to Maharashtra, which so far saw 10.15 lakh cases.
Andhra Pradesh has been adding 10,000 cases and reporting 70-80 deaths every day for the last few weeks. With 4,846 deaths, it also has the fourth highest death toll in the country.
On the other hand Telangana's tally of Covid cases as of September 12 stood at nearly 1.55 lakh. The average daily jump in cases has stabilized around 2,400-2,600 while daily fatalities mostly remained in single digit.
Though one of the first states to report Covid cases in early March, Telangana is at ninth place in the list of states with highest number of infections. With 950 deaths, it is also at ninth spot in terms of fatalities.
Though Telangana ramped up testing over the last one-and-half month, it still lags behind with 20 lakh tests, which is not even 50 per cent of the tests conducted by its neighbour.
One of the first states to ramp up testing, Andhra Pradesh has so far tested over 45.27 lakh tests, next only to Tamil Nadu and Maharashtra. However, it stands at the top in tests per million ratio among nine states of its size (Andhra Pradesh, Tamil Nadu, Kerala, Karnataka, Telangana, Gujarat, Maharashtra, Rajasthan and Madhya Pradesh) with a figure of 84,786. The national average ratio is 39,790.
Andhra Pradesh also has the second highest positivity rate at 12.32, next only to Maharashtra (20.02). The state also has one of the highest number of active cases at 95,733.
The Andhra health officials, however, point out that the state has one of the best recovery rates at 81.96 per cent. The number of daily recoveries stands around 10,000.
As of Saturday, the state recorded 4.57 lakh recoveries, second biggest number of after Maharashtra's 7.15 lakh.
With 20 lakh tests, Telangana has one of the second-lowest testing numbers among nine states. Its positivity rate is 7.57 per cent. The experts point out that this is one of the highest among the states who have conducted 20-30 lakh tests.
Telangana has also seen nearly 1.20 lakh recoveries. Its recovery rate stands at 78.29 against the national average of 77.77 per cent.
Despite the fourth highest number of fatalities, Andhra Pradesh's mortality rate is 0.87, one of the lowest among the states of its size.
The government of Telangana also cites the state's low mortality rate at 0.62 per cent and high recovery rate as the proof of the effective steps taken by it to contain the virus spread.
Health Minister Eatala Rajender pointed out on many occasions that Telangana was the first state to impose lockdown and effectively implemented it, ensured strict monitoring of those who reported positive on arrival from other countries, traced and tracked primary and secondary tests.
He claimed that the state also controlled the situation with the ramping of tests and improving the health infrastructure for Covid treatment in Hyderabad and districts.
Chief Minister K. Chandrashekhar Rao told the state Assembly last week that Telangana is on a better footing than many other states in handling Covid-19
AA month ago the situation in Hyderabad was a cause of concern with 800-900 daily jump in cases. Director of Public Health Srinivas Rao said sustained efforts considerably brought down the numbers.
While admitting that the cases were on rise in tier-II cities, he exuded confidence of bringing the situation under control across the state by September.
Telangana government came under flak from various quarters for its poor testing. It was only after High Court orders on several PILs that the government acted to ramp up testing.
From around 1,000 daily tests in early June, the state ramped up testing. Roping in the private sector on the court's direction, the state increased the numbers and since last month, it is testing over 60,000 samples every day.
A total of 17 government and 38 private laboratories and 1,076 rapid antigen tests centres are conducting the tests.
Samples tested per million population in Telangana is at 55,989. "This is much higher than the daily testing target of 5,600 per day as per the World Health Organisation (WHO) benchmark of 140 per million per day," said director of public health Srinivas Rao.
Telangana's recovery rate is 78.7 per cent while the national average is 77.75 per cent. The total number of recoveries has crossed 1.21 lakh.
The number of active cases in the state stands at 32,005 including 25,050 in home/institutional isolation.
Taking a series of steps, the state succeeded in ramping up infrastructure for Covid treatment. Currently the state has 42 government-run hospitals for Covid treatment with 8,052 beds. Over 5,000 of them are vacant.
Nearly 200 private hospitals are also treating Covid patients. They have 10,433 beds, out of which 6,202 are vacant.
With several leading corporate hospitals located in Hyderabad, 50 per cent of Covid patients undergoing treatment here are from Andhra Pradesh.
The Andhra Pradesh government says the state has 138 Covid care hospitals with 37,441 beds.
It was on March 2 that Telangana had reported the first Covid-19 case while the first infection in its twin state was detected on March 12.
As on May 1, Andhra Pradesh had 1,463 cases and 33 deaths while these figures for Telangana were 1,039 and 26.
The number of cases in Telangana has spiked sharply after the state relaxed stringent lockdown guidelines under the Centre's 'Unlock 1' plan from June 1.
The number of positive cases in Andhra Pradesh more than doubled in a month between May 2 and June 2 -- from 1,525 to 3,200.
On August 30, Andhra Pradesh overtook Tamil Nadu to have the second highest number of cases in the country.