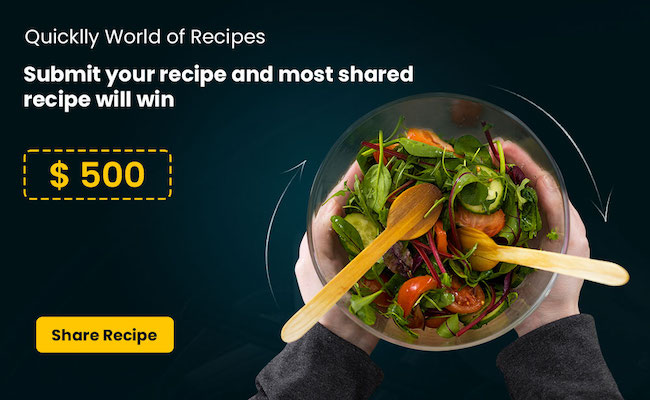 Quicklly, the largest online South Asian food marketplace in the USA has come up with a new launch for all the cooking enthusiasts and food lovers. This launch is known as Quicklly World of Recipes powered by John Cerasani. According to it, anyone can sign up to contribute, upload their recipes on the platform and earn benefits like cash and royalty.
People who love cooking and are passionate about sharing their recipes now have an ultimate platform. They can share new recipes they've created, traditional recipes from their motherland, or their grandmother's secret recipe on the website where millions of users from across the world can reap benefits out of it.
People who want to try cooking different meals can browse from a wide selection of recipes belonging to different cuisines, and prepare delectable homemade dishes accordingly. It is a win-win situation for everyone as the recipe owner earns rewards while the readers get to access savory recipes for free.
To contribute and participate in Quicklly World of Recipes, participants can create an account on Quicklly after which they can fill in the application form by adding details like Name, Email Address, and House Address to proceed further. Participants can then choose how they want to monetize their accounts.
Once the registration is complete, they can become recipe owners and start uploading their recipes and tag the ingredients required. Whenever a reader opens the recipe and purchases certain ingredients from the list, the recipe owner will be rewarded. They also stand a chance to win royalty or cash up to $500 when their recipe gains over 1000 likes or shares.
This amazing concept by Quicklly can solve major issues for a lot of people in the US who find it difficult to prepare homemade Indian meals. They can view a collection of recipes from major cuisines and Indian Food Recipes like Chana Masala Recipe and Butter Chicken Recipe.
Besides, the struggle for finding the right ingredients for a certain recipe ends here because once the readers have viewed the recipe; they can shop for all the ingredients mentioned in the list directly on the Quicklly website. Additionally, every recipe is specifically customized as per the serving size, so cooking is surely hassle-free now.
With all of that said, Quicklly has given recipe owners the opportunity to share their most loved recipes online in the World of Recipes. This is a treat to the readers in the USA as they can enjoy delicious homemade meals with just the right recipe and ingredients and without any barriers.
Press release by: Indian Clicks, LLC
Click Here for Latest Direct-to-OTT Releases (List Updates Daily)