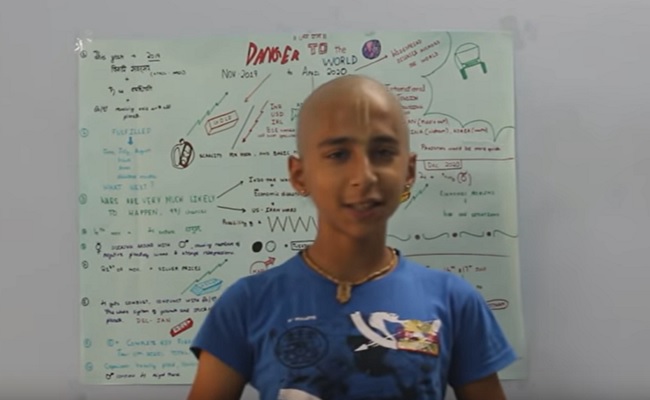 Abhigya, a young astrologer from India has predicted the catastrophe the world is facing now.
In a video released on youtube on 22nd August 2019, he said, "The conjunction of Moon and Rahu as well as the conjunction of Mars, Saturn and Jupiter are going to create massive catastrophe from November 2019 to April 2020".
Many those followed his video have come to conclusion that some war may outbreak among some nations. But of course, now it has turned up like a war of nations with common enemy called Covid 19.
Now Abhigya has released another video on March 26, 2020, saying, "The coming days from March 29th to April 2nd are worst of the entire season. The disease spreads wild and the virus gains its momentum due to Moon and Rahu conjunction. As per the planetary positions, I advise not to step out and be with immunity boosters and vapourise yourself with hot water. Get all the provisions before. The impact will be bad on Andhra, Bengal, Odisha and North West of India. You may ask, when this pandemic will come to an end. It weakens a bit by May 29th, though doesn't end".
This means that the light at the end of the tunnel can be seen by only by May 29th. Long way to go. We may assume that the world may take some decision in dealing with this virus and get along with works after May 29.