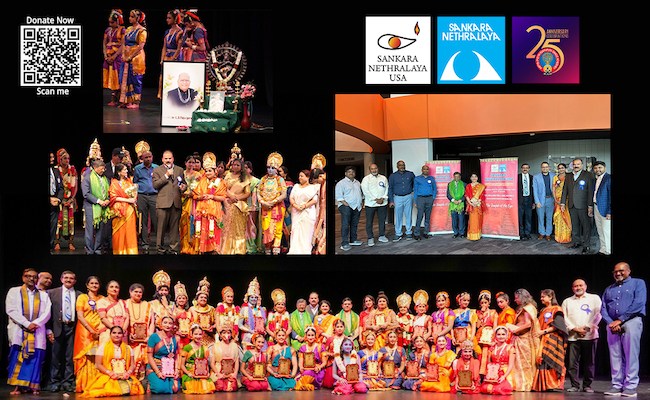 Sankara Nethralaya USA Kuchipudi Concert in Atlanta - Great tribute to father by Jyothi Chintalapudi.
Padma Bhushan awardee Dr. S.S. Badrinath founded Sankara Nethralaya (SN) in 1978 with the sole objective of providing world class eye care for free to the poor and at an affordable price to others.
Natya Jyothi academy founder Smt. Jyothi Chintalapudi wanted to pay tribute to her Guru, Padma Shri awardee and Kuchipudi legend Dr. Shobha Naidu by organizing a concert - Kalyana Srinivasam for her academy's 25th anniversary.
In addition to paying tribute to her Guru, she also wanted to raise funds for a noble cause. She reached out to Sankara Nethralaya USA (SN USA) team and expressed her interest to organize a concert on September 3rd, 2023. Planning and preparations for the event were going great. Jyothi gari parents came from India to attend their daughter's special occasion.
One day before the program, Jyothi gari father Shri. L.S. Raju passed away and SN USA team came to know about the news just an hour before the program. SN USA team told Jyothi garu that we can cancel or postpone the program. But she insisted to perform the program for Sankara Nethralaya's noble cause and pay tribute to her Guru and father.
In addition to organizing the program, Jyothi garu played the main role of Goddess Padmavati in the concert. A visual treat of dance kept the audience glued to their seats in utter joy.
Only at the tail end of the show, Jyothi garu placed the photo of her father as a tribute, and only then did the attendees know something was amiss. Then, everyone became emotional and deeply appreciated her decision to pay tribute under such circumstances.
With this tribute, she is restoring vision to hundreds of poor patients. Shri. L.S. Raju garu was a great speech interpreter for late Prime Minister of India, Bharat Ratna awardee Shri Atal Bihari Vajpayee ji.
Program highlights: https://youtu.be/6MQC5BFD7qM
After the program, SN USA team felicitated Chief Guest Padma Bhushan awardee Dr. Jag Sheth and his wife Smt. Madhu Sheth. SN USA announced Dr. Jag as a Sankara Nethralaya USA's Board of Advisor.
In the past Sankara Nethralaya USA team organized Meet 'n Greet with Dr. Jag Sheth. See the link for presentation: https://www.sankaranethralayausa.org/JagSheth.html
SN USA team felicitated Dance Guru Smt. Jyothi Chintalapudi and guests to the program - Shri. Gummadi Gopala Krishna, Dr. Anand Kuchibhotla, Smt. Lakshmi Babu, Smt. Anita Pallewar and 31 performers in the concert that came from different parts of the USA.
Dr. Uday Chintalapudi, Jyothi gari husband spoke about her dedication, focused thoughts, and decision to perform so her father could see over us, as her students and she herself performed, for her Guru, Padma Shri Dr Shobha Naidu.
For her dedication and commitment, SN USA President, Mr. Bala Reddy Indurti announced Mobile Eye Surgical Unit (MESU) Adopt-A-Village camp in memory of her father in his native village. Sankara Nethralaya wants to pay tribute to Jyothi gari father this way. This kind act was appreciated by all the attendees.
We raised significant funds including one Adopt-A-Village, and USD 5K from Anand Kuchibhotla garu. SN USA Atlanta team Moorthy Rekapalli, Srini Reddy Vangimalla, Meher Chand Lanka, Raj Aila, Sridhar Julapally, Neelima Gaddamanugu, Dr. Madhuri Namuduri, Ramesh Chaparala, Upendra Rachupally and Suresh Vemulamada helped in the planning and preparations.
Community leaders Dr. Prasad Garimella, Dr. Sreeni Gangasani, Kiran Reddy Pasham, Ravi Chander, Mohan Dev, Gokulnath, Balakrishna Nuli, Padmaja Kelam, Shankar Narayana, Sairam Karumanchi, Jagadeesh Cheemarla also attended the ceremony and extended help in organizing the event.
Dr. Anjali Renukunta was the MC to the program. Venkat Kuttuva covered the video and Suresh Volam covered the photography.
For more information, please visit www.SankaraNethralayaUSA.org and please contribute generously to restore the vision of poor patients.
Content Produced by Indian Clicks, LLC