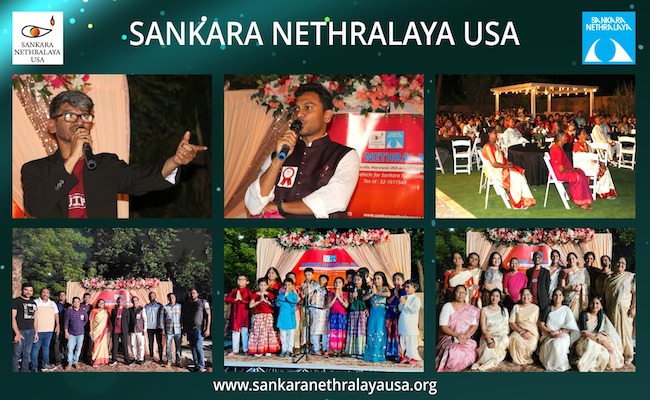 To raise the awareness of the Sankara Nethralaya organization in Phoenix Arizona, SN USA organized Meet 'n Greet with famous Indian film lyricist Shri. Anantha Sriram Garu at Chandler, Arizona on September 10th, 2023. He mesmerized the audience with his non movie lyrics and songs.
About 250 people gathered and graced the event. Raghu Kunche garu, an Indian singer surprised everyone by attending this event and sang a couple of Telugu and Hindi songs.
The Event started with lord ganapthi songs by Mrs. Rama Nishtala,Smt.Sindhu Thadiparthi and Mr. Varun. Along with Anantha Sriram garu program, there were about 25 kids from Sri Sankara Bala Vikas reciting the slokas and we honored them along with their guru Shri. Amaranth kundanamadugu with mementos.
The Bhajan by Art of living team of Mrs.Monasha Joshi group created a pleasant evening though it's a warm day in Phoenix.
In this Meet Mrs.Rekha Reddy & Mr.Adishesha Reddy family pledged MESU (Mobile Eye Surgical Unit) Adopt-A-Village program in 2024 in Keshapuram Village, Sathyasai District, Andhra Pradesh, Along with them another Donor Mrs. Pallavi Kovuru & Mr.Dheeraj Pola family pledged MESU Adopt-A-Village 11 day eye camp in 2024 in Rajampet, Annamayya District in Andhra Pradesh.
SNUSA through this event they were able to raise about 30K USD donations including the above two Adopt a village donations.
The Sankara Nethralaya Board of trustee Mr. Vamsi Krishna Eruvaram expressed a gratitude towards SNUSA President Bala Reddy Indurti for providing the opportunity and guiding to organize the Kickoff event in Phoenix, Arizona. During his speech he explained about the Sankara Nethralaya events and the role of the SNUSA team. Mr. Vamsi explained and brought awareness about the MESU camps and its importance especially at rural areas in India.
Several donors came forward during the meeting and pledged to make donations. He also thanked SNUSA President Emeritus Mr. SV Acharya, Vice President Mr. Moorthy Rekapalli, Secretary Mr. Krishnaraj Bhat, Treasurer Mrs. Banu Ramakrishnan, Joint Secretary Mr. Shyam Appali, Joint Treasurer Soma Jagadeesh, and Board of Trustee Mr. Upendra Rachupally, for their unconditional support to this event.
The prominent leaders of phoenix Mr.Srini Gupta, Mr.Roopesh Reddy, Mr. Shyam Byra, Mr. Anjal Reddy, Mr. Raghu Gadi, Mr. Nagesh Puppala, Mr. Chenna Sanikommu graced the event and expressed their views about Sankara Nethralaya events and promised to give a support to the organization. The Sankara Nethralaya committee felicitated everyone to honor them.
Thanks are due to Mr. Adishesha Reddy, Mrs.Rekha , Mrs.Madhavi Reddy Kantala, Mrs.Swathi and their friends for hosting the event at their premise and for serving food for all attendees.
Thanks are due to Sankara Nethralaya Chennai team Mr. Suresh Kumar, Mr. Theagarajan and Mr. Deena Dayalan for their unconditional support.
Special Thanks to Mr. Dheeraj Pola, Sreenivasulu Mamidi,Amarnath Kundanamadugu, Anudeep Chandra, Shiva Konduru,Paritosh Poli, Dinakar Kypa, Tej Kumar, Raj Pappula,Ravikumar Vaduguru, Chenna Reddy Madduri and Sunil AnanapuReddy for volunteering this event and making it successful.
Please visit the website to support the noble cause: www.SankaraNethralayaUSA.org
Content Produced by Indian Clicks, LLC