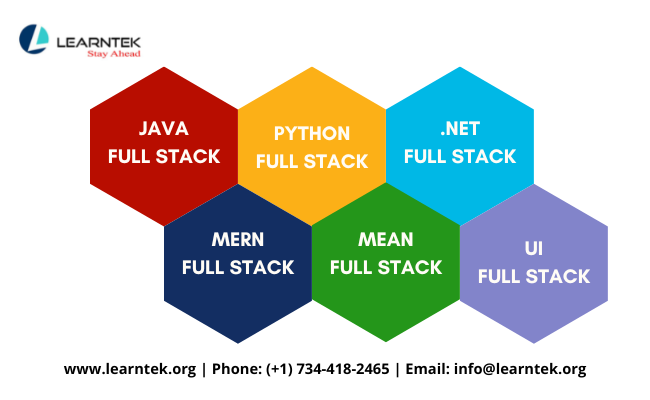 EVERGREEN - JAVA FULL STACK DEVELOPER TRAINING.
What is JAVA Full Stack? A JAVA Full-stack developer is a web developer who develop application's backend and frontend. Java Full Stack is basically a term used for a web developer that uses Java to develop the entire technology stack is referred to as Java Full Stack developer.
Why JAVA Full Stack?
- Easy and quickly Learn and develop software industry required full stack applications.
- As its Open Source we can develop Efficient, highly scalable Cost-Effective Solution.
- Good documentation and examples.
- Backed up by a large community support for technical knowledge and developmental issues.
- Many Prominent Companies rely on the JAVA Full Stack to develop high quality, Secure and Scalable web applications.
Who can attend this JAVA Full Stack Course:
Any Individual / Students / IT Professionals who wants to pursue and excel their career in Information Technology can opt for this course. Others who have a passion to enhance their knowledge on how the latest web technologies are working and expand their business growth by using JAVA Full Stack Technologies.
Job Market Demand for JAVA Full Stack Developer.
- The average JAVA FULL STACK Developer salary in the USA is $120,825 per year. Entry level positions start at $87,500 per year while most experienced workers make up to $140,250 per year. Ziprecruiter
- Overall employment of web developers and digital designers is projected to grow 23 percent from 2021 to 2031, much faster than the average for all occupations. (Bureau of Labor Statistics)
Available Full Stack Courses:
- JAVA Full Stack Training.
- MERN Full Stack Developer Training
- MEAN Full Stack Developer Training
- Python Full Stack Training
- .NET Full Stack Training
- UI Full Stack Training
- Data Science Mentorship Program
- Data Analytics Mentorship Program
- DevOps Mentorship Program
Limited Seats available.
Start Date: Monday, March 13, 2023.
For more information, visit: https://www.learntek.org/masterprograms/
Contact Information:
Email: [email protected]
USA: +1 734 418 2465
Math, Science & Coding for High School Students.
https://www.learntek.org/ap-classes-online/
Content Produced by Indian Clicks, LLC