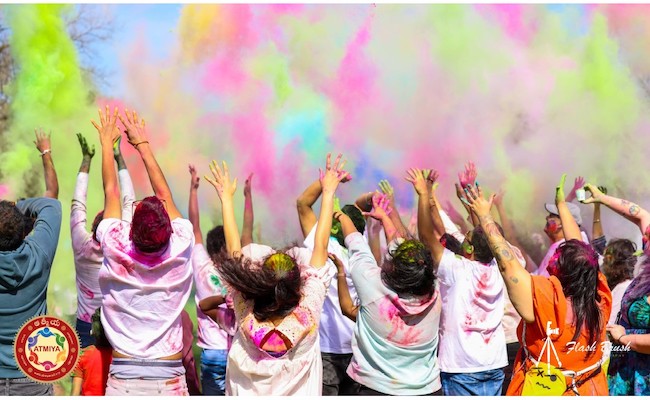 Dallas, Texas – ATMIYA USA, a Non-Profit Organization (501c3), recently celebrated Holi with more than 400 members present.
The celebrations took place on March 5, for which people travelled from other places such as India, Austin, Houston, Arizona, and Singapore. Attendees complimented that the fun games organized and the gourmet food served were among the biggest highlights of the party. Games such as Lemon & Spoon, Tug of War, Sack Race, Tied in a Knot Challenge, among others, were held just for fun.
Indian Chilli Restaurant in Flower Mound-Texas, catered to the taste buds of the attendees by supplying a wide variety of dishes from different cuisines. From fine dining to street food, everything was there for the asking.
"The items on offer were wide-ranging. Simple items such as samosa chat and crispy corn were topped by main dishes such as Chicken 65, shrimp pepper fry, guthi vankai, mango chepala pulusu, pachimirchi paneer pulav, chicken biryani, and others. Telugus' favorite dishes and various other items catering to different cultural tastes were put up," a source says.
On top of that, a flash mob performance, 360 Degree photography and drone photoshoot were also arranged.
At the end of the Holi event, every kid left with a toy... and every adult became a kid!!
Volunteers @ ATMIYA Dallas Committee
Raj Kiran Chennareddy, Rajesh Kallepalli, Sajitha Thirumalasetty, Vijaya Spandana Eete, Sesi Yerubandi, Naveen Nayudu, Ram Ungarala, Ramakanth Ungarala, Ravi Chinamilli, Siva Lakkaraju, Sreenikhil Kollu, Phani Gudise, Vijji Chinamilli, Shashank Nimmala, Teja Kunapureddy, Hari Padala, Kranthi Thalatam, Subbu Nimmala, Sudheer Kunapureddy, Swapna Siddam, Harish Allam, Krishna Teja Bavisetty, Tanuj Dasari, Bhanu Siddam, Vijaya Durga Mandapaka, Geeta Nayudu, Sathiya Moorthi and many more.
Some of the dignitaries that graced the event: Venkat Yerubandi, Chitti Mutyala, Prof Allam Appa Rao, Phani Mutyala, Jay Kumar Chimata, Dr Manjula Raguthu, Suresh Lingineni, Dr Surya Raguthu, Dr Durga Nelapolu, Bobby Adda, Sridhar Lingineni and many others.
Click on the link below for Photo Gallery
https://photos.app.goo.gl/d6U7Xzcp16g4w5jz6
ATMIYA's Services - F.A.B.R.I.C.
ATMIYA provides 6 value added services called F.A.B.R.I.C. to "Educate, Enrich, Empower & Elevate" its members.
- FIRE (Creating & Enhancing Wealth through financial education)
- ASARA (Technical Trainings, Mentoring & Career Guidance to Students)
- BEST (Creating Entrepreneurs and Businesses)
- Real Women (Empowering Women)
- Immigration (Immigration Education – USA UK and Europe)
- Community Affairs (Educational Meetups & Sponsorships)
ATMIYA USA
www.atmiyausa.org
Content Produced by Indian Clicks, LLC