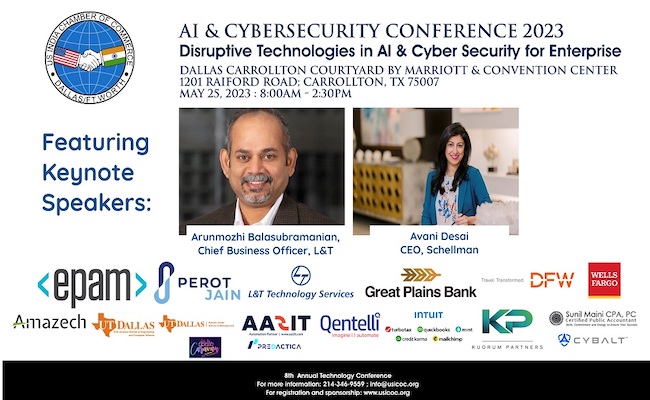 On May 25, 2023, the US India Chamber of Commerce DFW (USICOC DFW) will host its AI & Cybersecurity Conference – Disruptive Technologies in AI & Cybersecurity for the Enterprise.
The conference will bring together leading experts in emerging technologies and cybersecurity, including keynote speakers Avani Desai, CEO of Schellman, and Arunmozhi Balasubramanian, Chief Business Officer of L&T Technology Services.
In addition to the keynote speakers, the conference will also feature 3 panel discussions and will include a CIO panel, a CISO panel and a start up CEO panel. Panelists will discuss how they are integrating emerging technologies and staying ahead of the curve to combat cybersecurity threats.
Panelists include:
CIO Panel – "ChatGPT and AI Influence on Digital Transformation"
Panelists: Rashmi Jain (Careington), Jeff DeFord (Parkland), and Sucheta Kohli (JP Morgan Chase)
CISO Panel – "Cybersecurity's Role in 2023 and Beyond"
Panelists: Raghu Gatamaneni (Triumph Bancorp), Patrick Benoit (Brinks Inc.), and George Finney (SMU)
CEO Panel – "New AI & Business Transformation for Startups"
Panelists: Khrio Mishra (Cybalt), Rizwan Sheikh (Austin CSI), Arun Singh (Ilantus Services), and Subbu Rama (BalkanID)
Attendees and sponsors will have an opportunity to gain knowledge, network and showcase their organization during the booth expo portion of the conference.
The event will begin at 8 a.m. with registration and networking and welcome remarks will begin at 9 a.m.
AI & Cybersecurity Conference 2023: Disruptive Technologies in AI & Cybersecurity for the Enterprise
Date/Time:
Thursday, May 25th. 2023 from 8:00 a.m. – 2:30 p.m. – Lunch will be served
Location:
Dallas Carrollton Courtyard & Convention Center
1201 Raiford Road
Carrollton, Texas 75007
For registration and expo booth information, please visit: http://tinyurl.com/5a6ptukz
The USICOC DFW was founded in 1999 and is a 501(c)(6) organization whose mission is to support professional, business and economic development throughout North Texas and facilitate bi-lateral trade with India.
The Chamber consists of businesses and professional members who are interested in engaging with the Indian-American professional and business community in North Texas and/or interested in bilateral trade and business between Texas and India.
To join the Chamber and get access to all events in a year please register at: https://usicoc.biz/membership-forms/
Contact Information:
US India Chamber of Commerce DFW
Kamal Fulani
214-346-9559
[email protected]
Content Produced by Indian Clicks, LLC