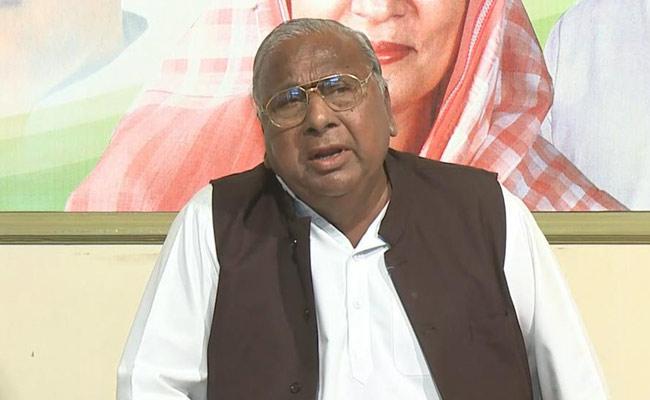 Senior Telangana Congress leader and former Rajya Sabha member V Hanumantha Rao, who never loses an opportunity to attack the TRS government led by chief minister K Chandrasekhar Rao, sprang a surprise by showering praises on the latter.
Addressing a meeting of Munnuru Kapu association at Lower Tank Bund on Sunday, Hanumantha Rao was all praise for KCR rendering yeoman service for the development of Backward Class communities in the state.
"Never in the past had any other chief minster done for the BC as the Telangana chief minister is doing now. He has given a lot of respect for the BC castes by giving them top positions in the government and the party," Hanumantha Rao said.
He reminded that it was KCR government which had allocated five acres of land and Rs 5 crore financial assistance for the construction of welfare building and community halls for the various sections of BCs.
"I wholeheartedly thank and appreciate KCR for his excellent service to the BCs," he said.
The senior Congress leader also had a piece of advice for the TRS president.
"I request him not to encourage his party leaders to target the BC leaders in other parties," he said.
Hanumantha Rao's comments are being viewed in the light of his latest announcement that he would resign from the Congress party, if the high command makes Malkajgiri MP and party working president A Revanth Reddy as the PCC chief.
He also made some critical comments against the high command, stating that he was not getting appointment of Sonia or Rahul for the last two and a half years.
He even alleged that AICC in-charge of Telangana affairs Manickam Tagore was sold out to Revanth Reddy.
May be VH is toying with the idea of joining the TRS if he is either expelled or forced to resign from the Congress after making Revanth Reddy as the PCC chief. He knows that if Revanth becomes the PCC chief, he would be targetted.
Click Here for Latest Direct-to-OTT Releases (List Updates Daily)