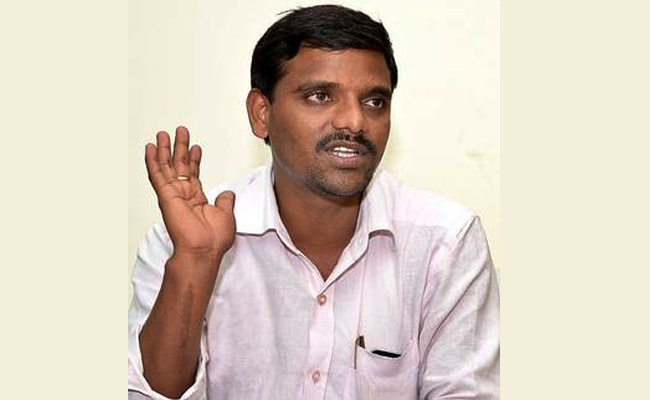 Popular television anchor and journalist Chintapandu Naveen Kumar alias Teenmar Mallanna, who has become a thorn in the flesh of the Telangana Rashtra Samithi leadership with exposure of various irregularities in his web channels Q-TV, is now facing arrest.
While the Cybercrime police have booked a case against Mallanna on Tuesday based on a complaint by a woman colleague stating that he was harassing and blackmailing her, the Chilkalguda police dug out three-month old case filed against him and summoned him for questioning.
In a notice served on Mallanna, the Chilakguda police asked him to appear before them on Thursday for questioning in connection with a case filed against him in April under sections 387 (extortion) and 504 (intentional provocation by insulting a person) of Indian Penal Code.
Mallanna was asked to follow several directions such as not committing any other offence, not tampering any evidences, not making threat to any person, appearing in the court and the police station as and when required and producing all the relevant documents.
At the same time, the Cybercrime police, who conducted raids on his QTV web-channel office, based on a complaint by an ex-woman colleague, also booked a case against him.
She alleged that Mallanna and his brother Venkatesh resorting to morphing of some images, to show that she had an illegal relationship with another employee Chiluka Praveen.
"He is using their pictures for blackmailing the Chiluka Praveen and her. These pictures are circulating in Social Media like, YouTube and captioning as "Lodge Vyavaharam," the complaint said.
The police also charged Mallanna with collecting personal details of the employees, so as to use them for blackmailing the employees in future.
Mallanna, however, refuted these allegations. He said the KCR government would have to face the debacle with such cheap tricks.