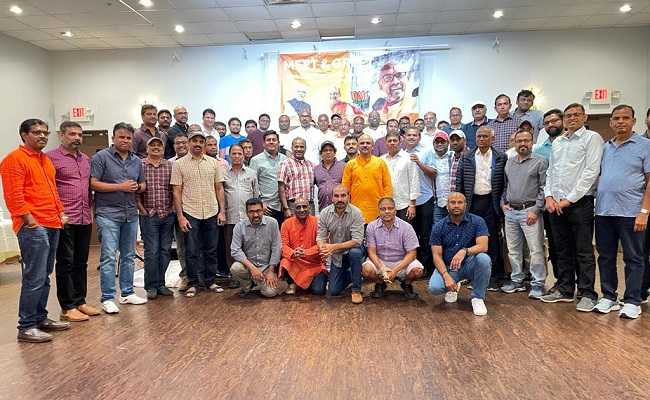 Member of Parliament from Nizamabad D. Arvind was felicitated in a private gathering of over 210 NRI party supporters at Minerva Banquets in Dallas, TX.
Welcoming the BJP party supporters, Raghuveer Maripeddi thanked them for continuing to show their unconditional support towards BJP.
The program began by felicitating with bouquets to the chief guest.
Representatives from ATA – Satish Reddy TANTEX - Umamahesh Parnapalli, TPAD – Ashok Kondala, DATA – Kiran Chelamalla, Srinivas Thippana among others.
Raghuveer Maripeddi stated that time for change has come in Telangana and people of Telangana have realized the dubious promises and rule of the TRS government.
He appealed to the people of Telangana to vote with conscience this time and ensure the TRS government is rooted out of power.
Member of Parliament Arvind requested this to be an interactive session and stated the message gets better transcended when both parties talk and exchange views.
He opined that the state of Telangana is going through one of the toughest times and there needs to be a people revolution.
He stated that the Kalvakuntla family is ruining the state and the state machinery is shambles.
He wondered how can a Chief Minister not work from the Secretariat and yet call BJP a party with no principles.
The MP went on to say that under the leadership of Narendra Modi India has been recognized as a dominant force and quoted examples such as abolition of Article 370 and streamlining many policies which otherwise would not have been possible with either Congress party or any regional party.
He appealed to the NRIs to be in constant touch with their families in Telangana and stated the people of Telangana should realize that the ruling TRS party is enjoying all center sponsored programs and calling them as state sponsored ones.
He opined that KTR is more of an NRI as he spends more time outside India and does not care for the core issues plaguing the state. He requested the voters of Sircilla to vote against KTR and ensure KTR is defeated.
Among those present and addressing the audience were Raj Anandeshi, Srikanth Konda, Ranpal Reddy, Srinivas Kelam, Vikram Borra, Manoj Reddy, Rakesh Cherala, Suresh Reddy, Venkat Bomma, Srinivas Ragipally, Surendar Reddy, Prashant among others.
Raghuveer Maripeddi later thanked Minerva Banquets for providing the venue and the media for covering the event.