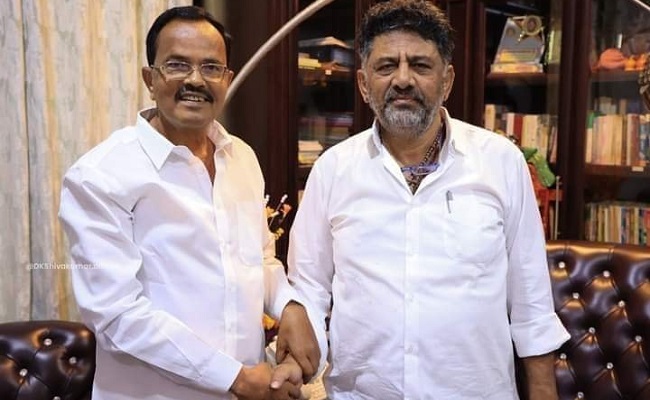 Five days after making a scathing attack on Bharat Rashtra Samithi president and Telangana chief minister K Chandrasekhar Rao, former minister and prominent Dalit leader Motkupalli Narasimhulu is all set to quit the BRS and join the Congress party.
On Friday, Motkupalli landed in Bengaluru and held talks with senior Congress leader and Karnataka deputy chief minister D K Shivkumar.
He expressed his desire to join the Congress provided he is treated with respect and given due recognition in the party.
Apparently, Shiv Kumar promised a good position to Motkupalli in the Telangana Congress.
With regard to the party ticket for the assembly elections, the former minister is learnt to have asked for Bhongir or Tungaturthi.
The Congress leader said an appropriate decision would be taken after discussing with the Telangana Congress leadership and also the high command, before finalising the party ticket.
In all probability, Motkupalli is expected to join the Congress in the first week of October.
On Sunday last, Motkupalli staged a dharna at NTR Ghat in protest against the arrest of Telugu Desam Party president N Chandrababu Naidu in the alleged skill development scam. There, he lashed out at KCR for his alleged casteist behaviour.
He claimed that KCR would clean his house with cow urine after a Dalit visit.
"He invited me to the BRS, but for the past six months, I have been trying to meet him, but he has not given an appointment. He has cheated me," Motkupalli alleged.
He also denied of having any enmity with Telangana PCC chief A Revanth Reddy and described him as his younger brother.
"The Congress is getting strengthened day by day because of Revanth Reddy. Residents in the city from Andhra Pradesh will play a key role in deciding at least 30 seats," he said.
Motkupalli expected to be selected to contest from the Alair constituency, but the chief minister decided to go with the party MLA G Sunitha Reddy.