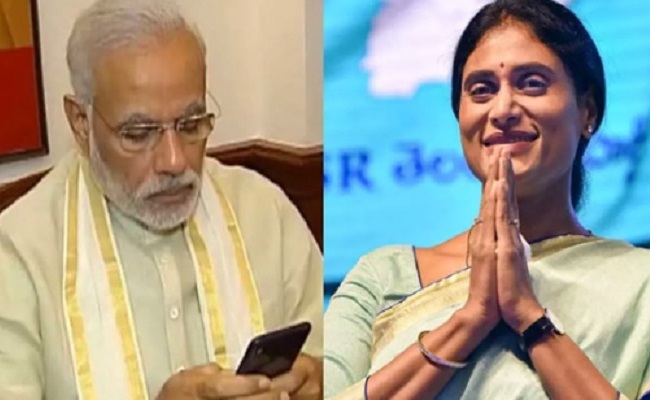 Telangana politics which has been witnessing a lot of heat and dust for the last few days took an interesting turn on Tuesday with none other than Prime Minister Narendra Modi making a call to YSR Telangana party president Y S Sharmila to discuss the latest political situation in the state.
According to reports from Delhi, Modi had called up Sharmila and enquired about the attack on her convoy and caravan by the Telangana Rashtra Samithi workers at Narasampet in Warangal district on November 28.
He also expressed sympathy to her over the ill-treatment meted out to her the following day by the Hyderabad police who towed away her vehicle with a crane even when she was inside the car, attempting to go to Pragati Bhavan, the official bungalow of chief minister K Chandrasekhar Rao, to register her protest.
These reports said Modi had told her that it was heinous on the part of the Telangana police to treat a woman leader in such a manner. He reportedly invited Sharmila to New Delhi for a personal talk.
Though there was no official statement from Sharmila's office on the telephonic call from the Prime Minister, a section of media has already started circulating the news, which has also become viral in the social media.
On Tuesday, some media reports said Modi had also enquired with Sharmila's brother and YSR Congress party chief Y S Jagan Mohan Reddy about the November 29 incident.
Though pro-TDP media said Modi had asked why Jagan did not respond to the attack on his sister and he did not answer the same, there was no confirmation or denial of these reports from either Modi office or Jagan.
Obviously, the TDP media sought to blame Jagan for not bothering about the injustice to his own sister Sharmila, while the Prime Minister is sympathetic towards her.
But if the report that Modi had called Sharmila for talks to Delhi is correct, it appears the BJP is trying to garner her support to the BJP in the run-up to the next year's assembly elections.