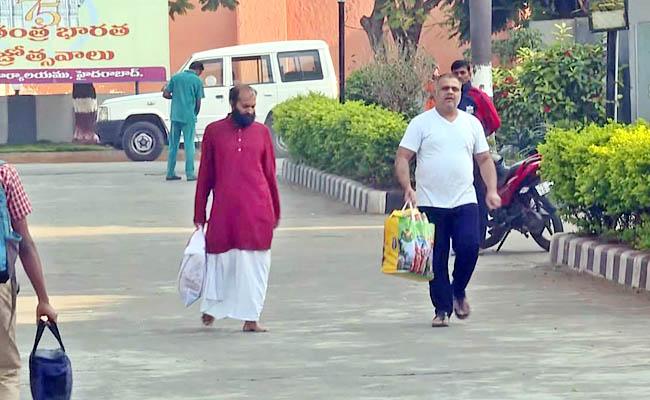 A week after securing the conditional bail from the Telangana high court, two of the there accused in the case pertaining to alleged attempt to poach four Telangana Rashtra Samithi MLAs into the Bharatiya Janata Party, came out of the bail, only to be arrested again within minutes.
On December 1, a high court bench headed by Justice Sumalatha asked the accused – Ramachandra Bharati from Faridabad, Nanda Kumar from Hyderabad and Simhayaji Swamy from Tirupati – to submit a personal bond for Rs 3 lakh each, besides two sureties.
The judge also asked the accused to surrender their passports to the special investigation team (SIT) probing the case and not to leave Hyderabad. She also asked them to appear before the SIT every Monday to sign the register.
However, the three could not come out of the jail immediately, as they had no way to submit Rs 3 lakh towards personal bonds and two other sureties for the same amount.
Finally, on Wednesday, only Simhayaji Swamy could come out of the jail hours after paying the surety amount.
The two others – Ramachandra Bharati and Nanda Kumar also managed to pay the amount to the court on Wednesday evening, but since there was no time, they remained in the jail.
But on Thursday, as soon as they came out of the jail, the Special Investigation Team (SIT) authorities arrested them again in different cases.
While Ramachandra Bharati was arrested again for having fake Aadhar card and passport, Nanda Kumar was arrested in a cheating case.
Both of them would be produced in the local court again and would be remanded to judicial custody. They have been in jail since October 27.
The three accused were caught red-handed by the Cyberabad police in a sting operation at a farmhouse on the outskirts of Hyderabad on October 26, while they were allegedly trying to lure the four TRS MLAs – Pilot Rohit Reddy, Guvvala Balaraju, B Harshavardhan Reddy and Rega Kantha Rao into the BJP by offering huge money, besides posts and contracts.
The accused were arrested and booked under Section 120-B (criminal conspiracy), 171-B r/w 171-E 506 r/w 34 (offering bribe for electoral gains) of the Indian Penal Code (IPC) and Section 8 of Prevention of Corruption Act-1988.
They have since been lodged in the Chanchalguda central prison in Hyderabad since then.