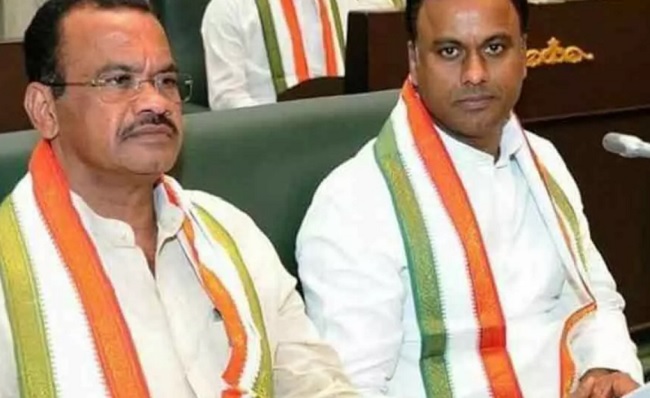 It appears to be more or less certain that Congress MP from Bhongir Komatireddy Venkat Reddy has made up his mind to quit the party and join the Bharatiya Janata Party on the lines of his younger brother and Munugode MLA Komatireddy Rajagopal Reddy.
Within minutes of Rajagopal meeting Union home minister Amit Shah in New Delhi on Friday to decide the date of joining in the BJP, Venkat Reddy also had a meeting with Shah for over half an hour, lending credence to the speculations that he, too, might join the saffron party.
Obviously, Venkat Reddy is aware that meeting the top leader of the rival party is without informing the Congress party leadership is nothing but defying the party.
Yet, he chose to meet Shah, saying that he had only discussed the flood situation in Telangana and sought the Centre's help.
As a matter of fact, it is not the responsibility of Venkat Reddy to represent Shah on flood situation in Telangana and explain the loss.
The Central team has already inspected the situation and the state government submitted a detailed representation on the flood loss.
At the same time, Venkat Reddy gave incoherent replies on the chances of him quitting the Congress and joining the BJP.
"There is no question of quitting the Congress. But if I do, I will do it openly and inform the party leadership. I am not afraid of anybody," he said.
He also found fault with PCC chief A Revanth Reddy to hold a meeting of the party workers at Munugode on Friday.
"How can he conduct the meeting without taking my permission? It appears he is trying to hound me out of the party. I will take up the matter with Sonia Gandhi and Rahul Gandhi," Venkat Reddy announced.