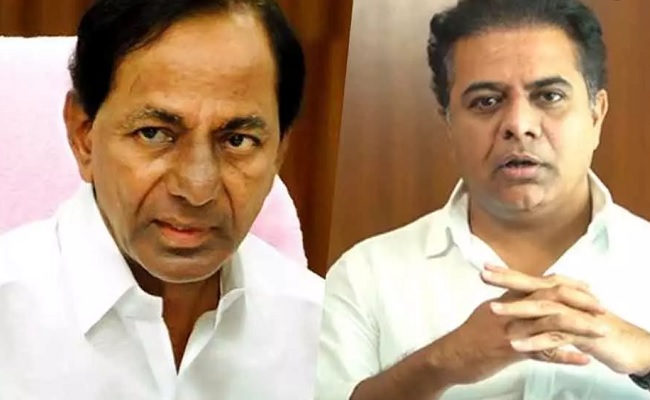 For the last 24 hours, media in Telangana have been churning out reports that Bharat Rashtra Samithi president and Telangana chief minister K Chandrasekhar Rao finally decided finally to hand over the mantle to his son K T Rama Rao to lead the party battle in the coming assembly elections in the state.
A section of media has carried detailed speculative reports stating that KTR would be made the chief minister soon.
The reason for their speculation is the way KCR preferred to stay away from giving the reply to the debate on motion of thanks to the Governor's address in the assembly on Saturday.
Normally, it is customary that the leader of the house (chief minister) will reply to the debate on motion of thanks to the Governor's address.
However, this time, it was KTR who gave the reply in the assembly.
This led to the whole debate in the media. They said KCR had deliberately given the task to KTR only to ensure that he gets the experience of handling such a situation and turning the tables on the opposition.
There is also a talk that KCR was not interesting in thanking Governor Tamilisai Soundararajan with whom he doesn't good terms.
He had, in fact, allowed the Governor's speech only to avoid a Constitutional crisis. In a bid to show his resentment, he had skipped the reply and gave the chance to his son.
But then, the same reports also raised the question that if KCR doesn't want to give the reply, he should have given to the state legislative affairs minister – Vemula Prashant Reddy or finance minister T Harish Rao.
Yet, he chose his son for the same, which shows the latter is the chief minister-in-waiting.
Sources in the party, however, said KCR is not interested in making any changes in the government at present.
"He has made it clear to the party cadres many times that the party will go to polls only under his leadership and that he would continue to be the chief minister for another two terms," a party leader said.
He knows that if KTR is made the chief minister now, it might lead to a discontent within the party and his son might not be able to handle the situation.
The people are still preferring to vote for BRS only because of the brand image of KCR, not KTR, the leader pointed out.
"If the party loses the next elections, the blame will go to his son, which he doesn't want. If the BRS retains power for a third successive term, then KCR may think of anointing his son as the chief minister," the leader added.