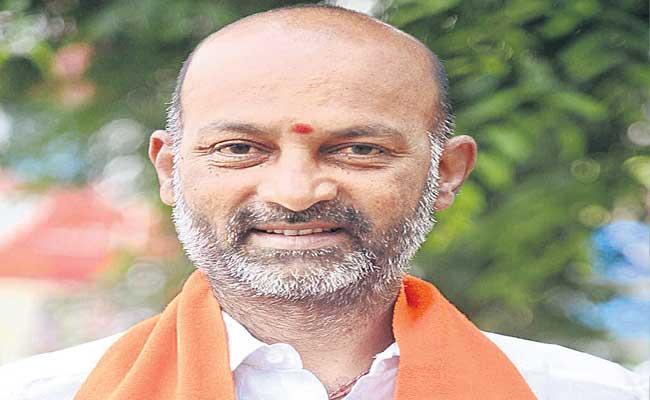 With Telangana Rashtra Samithi president and chief minister K Chandrasekhar Rao mounting a scathing attack on Prime Minister Narendra Modi almost every day, Bharatiya Janata Party state president Bandi Sanjay is equally hounding the TRS supremo with sharp comments.
On Monday, Sanjay came down heavily on KCR for making a hue and cry over Rafael aircraft deal with France and alleging that the Modi government had resorted to massive corruption.
He said it is very clear that KCR is reading out the script of the Congress party every day. The Congress party has made a big nuisance over the alleged corruption in Rafael deal and even gone to Supreme Court. And the apex court gave a clean chit to the Modi government after going through the report submitted by the armed forces.
"You won't believe the armed forces, Supreme Court and the Prime Minister. Whom do you believe? Congress party statement? Or Masood Azhar of Pakistan?" Sanjay asked.
Stating that KCR's friendship with the Congress has been more and more evident with every passing day, the BJP state president wondered whether KCR would become the next president of Telangana Pradesh Congress Committee.
"You made the proposal before Sonia Gandhi in 2014. It did not work out. Now, you seem to be raising the same proposal. The Congress leaders should be wary of the TRS president's secret moves, as there is no surprise, if he becomes the PCC chief," Sanjay said.
He said the BJP would never resort to vote bank politics. It is KCR who is playing politics in the name of religion and Telangana sentiment.
"Though Supreme Court clearly said nobody should speak about hijab, you are trying to provoke one community by talking about the same again and again," he said.
He alleged that it was TRS who indulged in communal politics in Bhainsa and subjected the Hindu youth to torture by getting them arrested under PD Act.
"KCR has no moral right to talk about communal harmony. We only want the law uniformly applicable to all sections of people," he said.