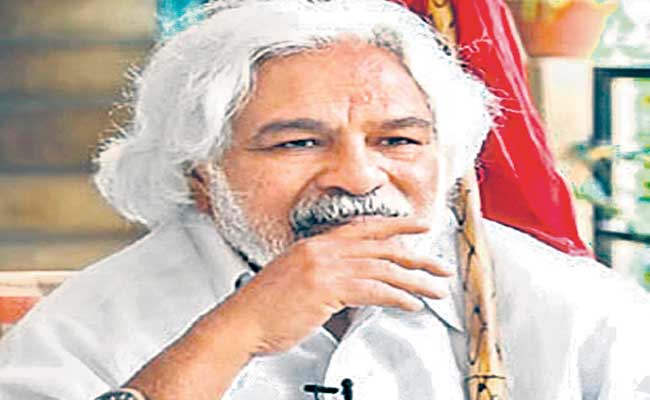 Once a powerful revolutionary who inspired thousands of youths to take to Naxalism, popular balladeer and former Maoist ideologue Gaddar has stooped down to an ordinary politician who jumps from one party to another to seek favours.
In the last few years, Gaddar has turned from a revolutionary to a spiritual man, visiting temples and singing in worship of gods and goddesses, including those at Yadadri, Dharmapuri, Palakurthi, Komuravelli and Bhadrakali.
He met every political party head like Sonia Gandhi, Rahul Gandhi, Chandrababu Naidu etc. and attended every political meeting including that of Bharatiya Janata Party leader and Union home minister Amit Shah.
Gaddar defended his meeting with these leaders saying he had met them only to pursue his case of 1996, when he suffered bullet injuries from unknown persons.
Till the other day, he was attacking Telangana chief minister and Bharat Rashtra Samithi president K Chandrasekhar Rao for adopting a feudalistic stand and neglecting the common people.
He even tried to contest the by-elections from Munugode assembly constituency on behalf of maverick evangelist and Praja Santi Party president K A Paul, but dropped out at the last minute due to technical grounds.
Now, Gaddar suddenly changed tune and started signing paens for KCR. He was all praise for KCR for naming the state secretariat after Dr B R Ambedkar and demanding that the Narendra Modi government, too, should name the new Parliament complex after Ambedkar.
A couple of days ago, Gaddar held a press conference welcoming the entry of KCR into national politics by renaming the TRS or BRS. He expressed thanks to the chief minister for addressing the land issue, which is the major area of concern for the people.
He also wrote a letter to KCR, addressing him as "anna," asking him to do research on the poverty in the country and work out a solution to eradicate the same.
"I have been watching his speeches for quite some time and I am impressed with his plans," he said.
Gaddar even announced that if KCR was sincere in his words and deeds, he was prepared to join hands with him for the next assembly elections. He, however, sought clarifications from KCR on many issues.