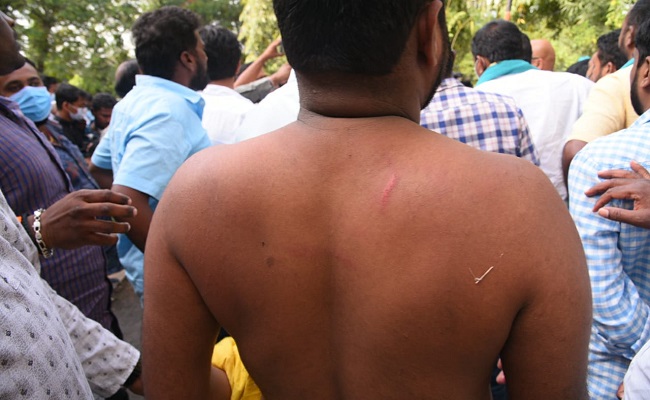 Agitated turmeric farmers on Tuesday attacked the convoy of Bharatiya Janata Party MP from Nizamabad Dharmapuri Arvind at Issapalli village of Armoor mandal, while he was on his way to Nandipet to attend some party programmes.
BJP leaders, however, alleged that it was not farmers, but the Telangana Rashtra Samithi workers who attacked the MP's convoy.
Arvind lodged a complaint with Nizamabad commissioner of police stating that the TRS workers made an attempt on his life.
The farmers were protesting against the MP for failing to fulfil his pre-election promise of getting a turmeric board sanctioned by the Centre for the state.
Holding placards demanding the turmeric board and raising slogans against the MP, they waylaid his convoy and attacked with stones and sticks.
The windshield of the MP's car was damaged in stone pelting. The farmers demanded his immediate resignation for failing to live up to his promise. Immediately, the BJP workers following Arvind entered into a clash with the protestors, leading to a tense situation.
The police immediately resorted to lathi-charge to disperse the warring groups. Arvind returned to Nizamabad in another vehicle without attending his scheduled programmes.
Arvind, who defeated Telangana Rashtra Samithi president K Chandrasekhar Rao's daughter Kalvakuntla Kavitha in the 2019 general elections from Nizamabad, had promised that he would get the much-awaited turmeric board for the farmers within a month of getting elected as MP.
He also signed a bond on a stamp paper to that effect and gave it to the farmers, saying he would resign from his MP seat if he failed to fulfil his promise. However, he could not fulfil the promise, as the Centre did not agree for a turmeric board.
TRS MLA from Armoor A Jeevan Reddy said the TRS had nothing to do with the incident.
"It was the turmeric farmers who prevented the MP from entering their villages, as he has miserably failed to fulfil his pre-election promise," Reddy said.