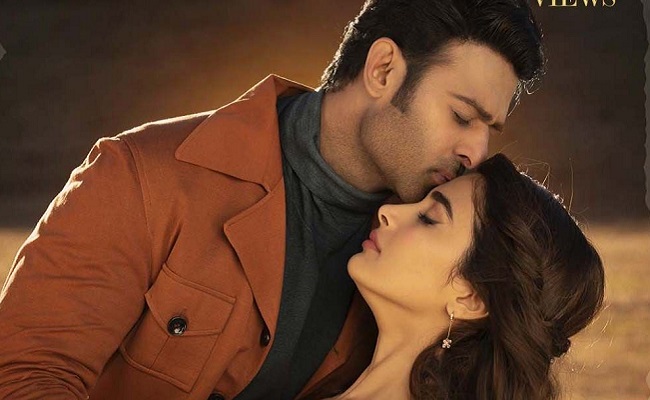 Movies do repeat in time. Some times they land as official remakes and other times strike out of the blue silently taking inspiration from several movies.
We are now talking about the highest budget film 'Radhe Shyam' that was released amidst hype and hoopla.
Though the film received mixed reactions initially, it was respected for the kind of creative investment it pulled. Some episodes caught the attention of the audience.
Though the majority of audience unanimously gave a thumbs down for the love story in the film, they lauded the scenes related to astrology.
Surprisingly, one such scene proved to be a direct lift and shift from an old small movie.
A Telugu film with the title 'Relax' was released a few years ago in which the opening scene deals with an astrologer who predicts the train accident. The scene was copied as it is by the director of 'Radhe Shyam', but made in a stylish way in Europe with some western junior artistes.
Keeping that away, the film is a direct inspiration from Mani Ratnam's 'Geetanjali' in which the heroine suffers from a fatal disease. The track was used as it is.
So, there is no much creative investment made in this film. Everything is copied and inspired without any originality.
It should be noted that it's not the budget that makes a film lovable.
Take for instance, the film Geetanjali that had a formulaic arrangement of songs of different genres.
The first song 'Jagada Jagada' was the perfect youth number of the time which pulled the attention of many young audience. Then came the heroine's song 'Ollantha Thullintha' which turned out to be a evergreen hit. Nandikonda Vagullona is one song made on the lines of horror mixed with humor. The unforgettable melody 'Aamani Padave aayiga' is another soothing song. Finally, the epic sized 'O Priya Priya' became the address of the this film.
Coming to 'Radhe Shyam' there is no single such song that can be remembered. This shows that the heart was not invested but assumed that everything can be done with pocket.
Investing Rs 300 Cr proved to be a gross mistake for this kind of film. It's the passion and attention that should be invested to the maximum but not the money.
'Radhe Shyam' proved to be a lesson for many film makers. A star alone cannot land the film safely without getting crashed, irrespective of the cost of the film. Safe landing can be expected only for the captivating narratives by all means. Investment should be done on the script first, before hitting the sets.
Kiran Sharma