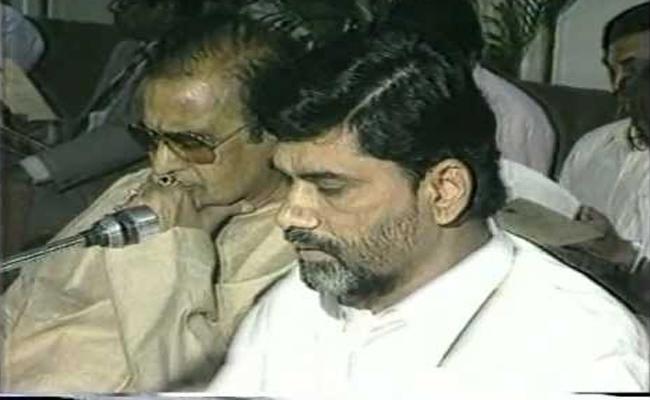 Chandrababu Naidu, the backstabber of NTR said freshly, "NTR is equal to God. His image has power. Like Tirumala Venkateshwara's idol which fulfills the desires even NTR's image does the same. There is no dispute about that. NTR is an ideal person for not just one generation but for generations down the line. We don't know how Lord Rama and Lord Krishna looked but we have the culture of seeing them in NTR".
Well, if NTR is a God for Chandrababu why did he deny his marriage with Lakshmi Parvathi? Why didn't he understand that was a Godly act?
If Lord Rama or Lord Krishna did something questionable, our 'dharma' says that it was for 'loka kalyanam' and so cannot be questioned. Then why didn't Chandrababu and Co consider NTR's decision to marry Lakshmi Parvathi was for Loka Kalyanam, if they really felt that he was God.
It is a tradition that we go barefoot to the temple leaving the chappals outside. Then how could Chandrababu and Co throw chappals on NTR in the Viceroy Episode if they really saw God in him? Was that not a blasphemous act?
NTR loved Lakshmi Parvathi till his end. Then how can Chandrababu and Co call her a demon, if they really worship NTR as God? Is that not a sin?
So, as per Chandrababu he seems to be agreeing that he committed 'daiva droham'. Or else he must be fooling people by praising NTR. Either of the two must be true.
NTR cursed Chandrababu calling him an Aurangazeb of modern times who was thankless and venomous. NTR's famous confession in a video before his death exposed the true inner side of Chandrababu. His 'Jamatha Dasamagraha' was the final curse to CBN. So, by all means, as the God himself cursed, the real demon should only be Chandrababu. Will he agree to that?
Keeping all issues aside, NTR is a God for Chandrababu Naidu for publicity sake and nothing else. But there are some innocent and mindless people who still feel that the above words of Chandrababu are true. That's a pity.
Chandrababu is a demon for every true worshipper of NTR. Liking CBN and admiring NTR cannot happen at the same time. One who likes CBN will automatically attract the curse of NTR.
Kudaravalli Subhash Chandra Bose