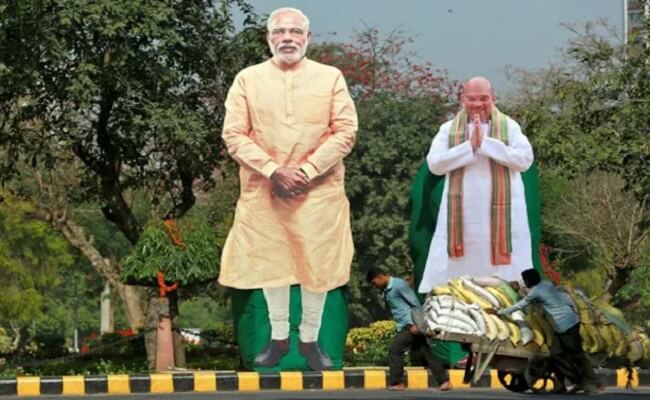 How many in the nation heard of the name Bhupindrabhai Patel? He has been the incumbent Chief Minister of Gujarat since 2021 Sep who won with a thumping majority today scoring 156/182. It was Vijay Rupani who served as the CM of Gujarat between 2017-2021.
The cutout of Narendra Modi as the Prime Minister of India is proved to be enough to elect the CM of his home state whoever be the candidate. The phenomenon looks so evident with the latest election result.
BJP had been the indelible fort of BJP ever since 1995 March when Keshubhai Patel became its first BJP Chief Minister. Since then it had been the uninterrupted rule of BJP though Rashtriya Janata Party took over the CM's seat for a brief period of one year in the rule of two CMs Shankersingh Vaghela and Dilip Parik after the 27 days President's rule was lifted.
Gujarat was 'Modi'fied ever since 2001 when Narendra Modi became its Chief Minister after the reign of Keshubhai Patel for second term. Modi became a national phenomenon within 7 years of his rule as state's Chief Minister. He turned the heads of entire nation towards him for his decisions influenced by his straunch RSS background. He developed the state phenomenally which made him a Prime Ministerial candidate.
His speeches during the 2014 election campaign successfully created an anti incumbency wave making him the Prime Minister of the nation.
After all this story, even now, Gujarat people are so adhered to BJP and the reason is the cutout of Narendra Damodardas Modi.
As the turnout of voters is very less in recent assembly elections, many assumed that the Congress or AAP would have the winning edge. But it's proved once again that the low election turnout is an indication of low or no anti incumbency mood.
The election result of Gujarat proved that Congress is almost dead in the state. Its identity can be felt in smaller states like Himachal Pradesh in the lines of Communist Party breathing in states like Kerala.
Another thing to be noted is that the tribal areas Gujarat also voted for BJP to win which actually were the strong footholds for Congress Party.
Though Arvind Kejriwal anticipated capturing Gujjarat like he did with Punjab, things didn't work and AAP is far-far behind in the race. The plight of the party ended up as hyped.
The political analysts say that the mood of Gujarat is an indication to the mood of the nation. General election 2024 may pump in hopes and anticipations for many parties but looking at the kind of majority the BJP got in Gujarat, it looks like the situation of 2019 repeats in the nation with little up and downs in place.
Kiran Sharma