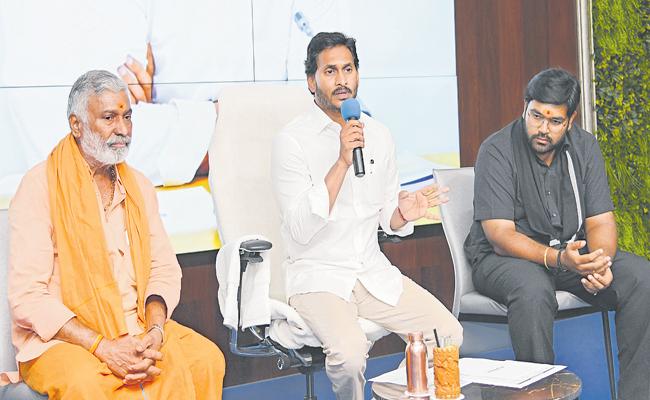 YS Jagan Mohan Reddy freshly promised to make KRJ Bharat a Minister if he defeats Chandrababu Naidu at Kuppam in the coming 2024 polls. Already this young leader proved his mettle in making the YSRCP victorious at the local polls in the Kuppam region in the last three years. That's really good thing to hear but many are feeling that it is a fake promise looking at the track record of YS Jagan Mohan Reddy.
It should be remembered that he promised in similar way to Alla Ramakrishna Reddy before defeating Lokesh Naidu in Mangalagiri. In spite of his victory, he was not given any Ministry till now.
Same applies to Marri Rajasekhar, the YSRCP District President of Guntur who performed well in his role. As it became difficult to accommodate him with MLA ticket, Jagan Mohan Reddy promised him that he would be made a Minister via MLC. Until now he was not given even an MLC.
There were two tough candidates from YSRCP, Tippala Nagireddy (Gajuwaka) and Grandhi Srinivas (Bheemavaram) who defeated Janasena Chief Pawan Kalyan in both the constituencies in 2019 elections. Neither of the two got due recognition till now.
YS Rajasekhara Reddy was the leader who used to stand on his word once given to anyone. But YS Jagan Mohan Reddy seems to be not living by such values and principles. He may have different valid reasons but the cadre hardly take that into account.
Looking back into the history, when NTR was defeated by Chittaranjan Das in one of the elections earlier in his time, the Congress appointed the latter as a Minister in the state cabinet.
When Smrithi Irani defeated Rahul Gandhi she was made a Minister in the Central Cabinet immediately.
That's the kind of recognition any party gives for giant killers.
Here there is another danger which Jagan Mohan Reddy should underline. There are seniors like Peddireddy Ramachandra Reddy, Roja and Chevireddy Bahskar Reddy who may not like a young guy like Bharat becoming a Minister under their aegis and mentorship. So, a hidden non cooperation from the mentor itself may disturb the winning prospects of YSRCP from Kuppam Constituency.
So, before promising something and putting it on record, Jagan Mohan Reddy should think twice about his last promises and future perils.
Samyuktha Dantuluri