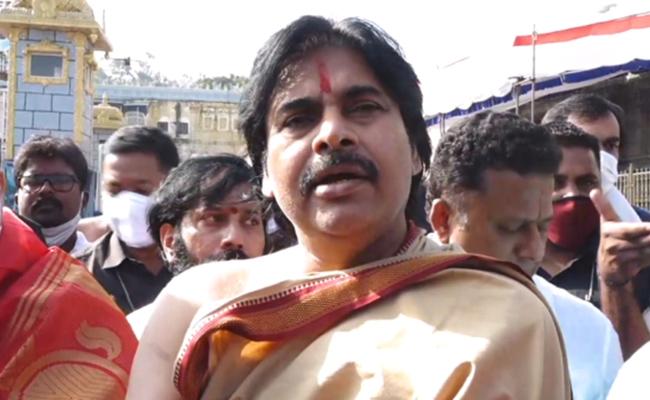 There has been a talk for quite some time in the Tollywood circles that there is a spiritual guru for power star Pawan Kalyan, who regularly gives him advices and fixes muhurthams for various programmes.
Not just for Pawan Kalyan, this Swamiji is also acting as a god father for several other celebrities of Tollywood, including ace director and writer Trivikram Srinivas, taking advantage of the blind beliefs for the film personalities in auspicious muhurtams and dates.
According to sources, this Swamiji will perform 'homams' in a big way at Narasimha Swamy temple at his native village in West Godavari district, starting from Sankranti festival to Shiva Ratri festival.
Hundreds of people, including celebrities, attend his final homam with Purnahuti to be performed on Shiva Ratri day.
The celebrities spend crores of rupees on these homams, as he worships for them and they believe such homams would fetch them good results.
This year, too, the Swamiji has begun the homams in a big way. Interestingly, he is learnt to have taken up Raja Shyamala Yagam this year, unlike in the past.
This is performed in the first few days of Magha month and is aimed at securing power for people and sustenance of power for already those who are in the ruling.
In the past, YSR Congress party president Y S Jagan Mohan Reddy had performed this Yagam under the auspices of Visakha Sarada peetham seer Swamy Swaroopanandendra in the past and he still does it regularly.
Even Telangana chief minister K Chandrasekhar Rao had done the same several times in the past to come to power and sustain his authority over the state.
More recently, he performed the yagam again on the occasion of the launch of Bharat Rashtra Samithi.
Enquiries revealed that the Swamiji has started this Raja Shyamala Yagam at the instance of Pawan Kalyan, who is ambitious to become the next chief minister of Andhra Pradesh by bringing Jana Sena Party to power in the next elections.
It is learnt it was this Swamiji, who had advised Pawan Kalyan to take up the tour of 32 Lord Narasimha Swamy temples across the two Telugu states.
"When he says something, Pawan will religiously follow," sources said.
Analysts wonder how Pawan could come to power by contesting 10-25 assembly seats given by the TDP as part of alliance.
"Even if he does 100 such Yagams, he cannot achieve his goal, unless his party contests the elections independently," an analyst said.