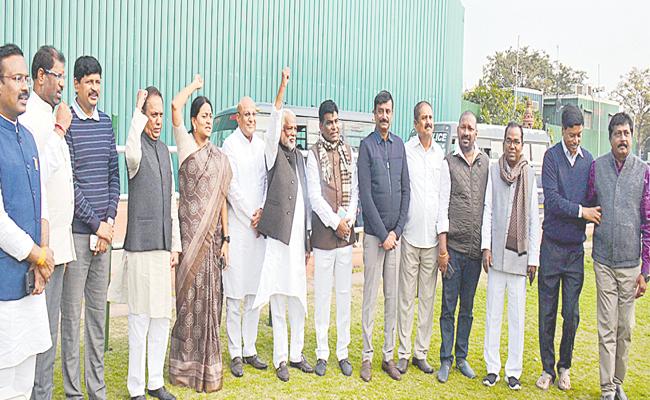 Bharat Rashtra Samithi led by Telangana chief minister K Chandrasekhar Rao on Tuesday demanded that the Narendra Modi government at the Centre should bring an "Adani Act" in Parliament to put an end to looting of public money by big corporate houses.
This was highlighted by BRS members of parliament at a press conference in Delhi, after boycotting the address of President Droupadi Murmu in the joint meeting of the Lok Sabha and Rajya Sabha.
The MP said they would request Murmu to advise the Narendra Modi government to introduce an "Adani Act" as there was only 'crony capitalism' in the country now.
"We heard the President's address today, but issues like unemployment, education, health or inflation were not included in it. I suggest to the President to advise the Prime Minister to bring an act called the 'Adani Act' as there is only crony capitalism now," BRS Parliamentary Party leader K Keshava Rao said.
Hitting out at the Centre, Keshava Rao said the BJP government had failed in all sectors of development and governance. He pointed out that in the last eight years, the Centre had done nothing for Telangana or the country.
"We want to focus on issues of concern so that the debate will go on the right path," he said.
He argued that the boycott of the President's address by the BRS and the AAP was absolutely a "democratic and demonstrative" one.
He asserted that they were not against the President and that their boycott was a protest against the Centre's 'failures'. He questioned whether the Opposition parties were not allowed to point out the failures of the ruling party.
"We have respect for the President like everyone. We are not against her, but only want to highlight through democratic protest the governance failures of the NDA government," he said, also reiterating that the union government was misusing the Governors system and trying to create interference in the affairs of States like Telangana, Delhi, Tamil Nadu and Kerala among others.
Lok Sabha floor leader Nama Nageshwara Rao stated that despite the BRS specifically raising issues including women's reservation bill and agricultural issues, there was no mention of it in the President's address.
He said the Centre did not mention about the Minimum Support Price for crops and had not even withdrawn the cases filed against farmers during the protests against the contentious farm laws.
"Dr BR Ambedkar's name was mentioned in the President's speech three or four times. But our demand to name the new Parliament building after him, has not been approved," he added.