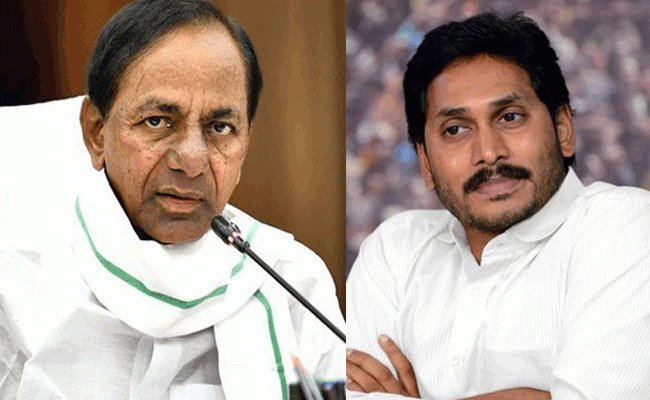 With Telangana Rashtra Samithi president and chief minister K Chandrasekhar Rao announcing that he would be going to Tirupati on the coming Sunday to attend the 29th Southern Zonal Council meet, speculations have started on whether he would have a one-on-one meeting with YSR Congress party chief and Andhra Pradesh chief minister Y S Jagan Mohan Reddy.
Hitherto, there was a talk that KCR might skip the meeting and send his ministers and senior officials to the Tirupati meeting.
But with Union home minister Amit Shah chairing the meeting, KCR thought it would give him an opportunity to represent the states' issues personally to the Union minister.
Since Andhra Pradesh is hosting the meeting, it is nothing but natural that Jagan Mohan Reddy, too, would be attending it.
He has already prepared the points to be raised at the meeting including the Special Category Status for Andhra Pradesh.
The question now is whether KCR and Jagan will have a one-on-one meeting after the Southern Zonal Council conference.
It has been a long time since both the chief minister had met each other, though there were reports that both of them are still in touch with each other over phone.
The last time that they had met each other was at Pragathi Bhavan in Hyderabad on January 13, 2020 and after that, there was no occasion for them to meet, as both the states have been reeling under Covid-19 pandemic.
In the meantime, lot of water has flown in Krishna river and both the states have taken an aggressive stand against each other over the river water sharing issue.
They complained to the Centr against each other on the drawl of water from Krishna river and construction of alleged illegal projects.
"The Tirupati meeting is a big opportunity for both the chief ministers to break the ice. It is likely that KCR might stay back in Tirupati after the Southern Zonal Council conference to have a darshan of Lord Venkateshwara the following day. Since both the CMs would have sufficient time, there is a chance that they might have one-on-one talk," sources said.
Since both Jagan and KCR have started taking an aggressive posture against the Centre of late, they might share their thoughts at the one-on-meeting and even work out an action plan to fight on protecting their interests.