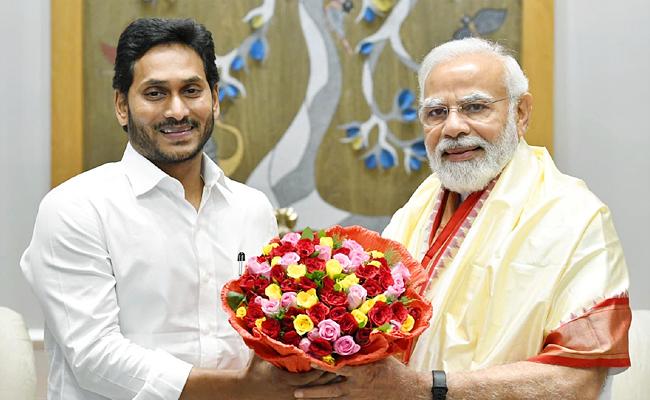 For the second time this month, YSR Congress party president and Andhra Pradesh chief minister Y S Jagan Mohan Reddy will be leaving for New Delhi again on August 17 to meet Prime Minister Narendra Modi.
According to highly placed sources in the chief minister's office (CMO), Jagan sought for an appointment with the Prime Minister for a detailed discussion and was granted the same.
There was a talk that the chief minister would seek one-on-one meeting Modi on August 7 itself, after the meeting of the NITI Aayog general council, but the PM was extremely busy due to various developments including swearing-in of new Vice President of India and conclusion of winter session of Parliament etc.
Apparently, Jagan asked for an appointment with Modi then itself and the PMO communicated to him that he could come on August 17.
The meeting assumes significance in the wake of reports that the Bharatiya Janata Party has started showing some inclination towards the Telugu Desam Party and it was evident at the recent crisp meeting of Modi with TDP president N Chandrababu Naidu in Delhi.
Sources said the meeting of Jagan with Modi would be at least for an hour, as they would be discussing many issues – right from political, to personal, to the issues concerning Andhra Pradesh.
While the Centre has been liberal in granting funds to the state, there are many tricky issues to be resolved, particularly Polavaram dam construction and rehabilitation issues, which have become a major headache for the state.
Besides, the chief minister also may seek the Centre's support to the state on three capitals issue, in the wake of reports that the state might move the Supreme Court challenging the March 3 high court judgement on Amaravati.
Since present chief justice of India N V Ramana, who Jagan thinks is the main hurdle for the three capitals issue, will be retiring in another two weeks, the state government is planning to file the SLP in the Supreme Court.
If the Centre can cooperate with the state government, Jagan can get a stay on the HC order. This may be one of the issues Jagan might discuss with Modi, sources said.