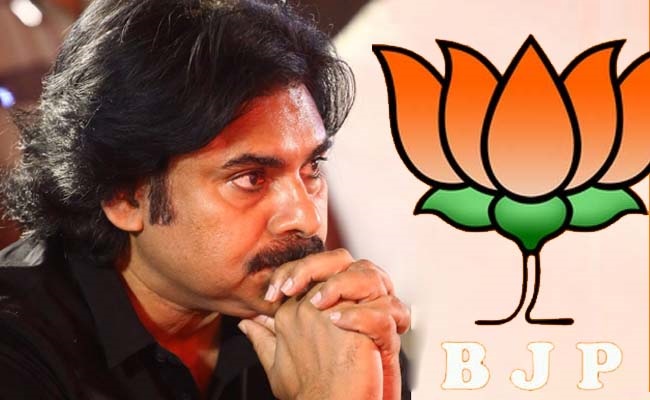 Even as the Jana Sena is getting ready for its formation day on March 14 with a public meeting planned in Tadepalli area, the BJP is on dilly-dallying on the issue of projecting Pawan Kalyan as their chief minister candidate.
The victory of the BJP in the four northern states seems to have ignited the leaders in AP to improve their vote base, for which they want to increase the number of programmes in the rural areas.
The party leadership in the state and those in the Centre are convinced of Pawan Kalyan's popularity among the people. Only failure is that Pawan Kalyan is not able to convert his popularity into a vote bank.
The BJP leaders are good at convincing and converting people as their vote bank. They have a special mechanism to consolidate their sympathisers into their vote bank.
The Sangh Parivar does this back office work for the BJP everywhere and the AP leaders want that to be replicated in the state.
The State BJP leaders are seriously working out a strategy to have joint programmes with Pawan Kalyan across the state from the beginning of 2023 till the election notification is issued for the 2024 battle.
However, some leaders in the BJP are of the opinion that Pawan Kalyan may break the alliance and go with Chandrababu Naidu once the election fever picks up.
They are of the opinion to use Pawan Kalyan's popularity as long as he is with the BJP in alliance without naming him as the chief minister material.
It is to be seen how this arrangement would work out as 2022 rolls over.